Alesis HR-16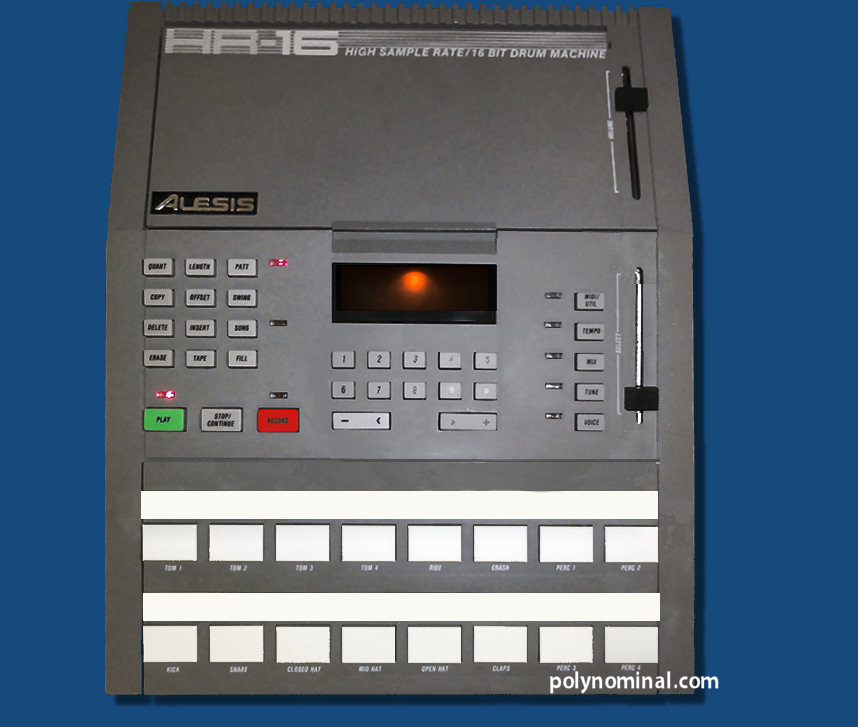 | | | |
| --- | --- | --- |
| | trend price : 100€ | |
Alesis HR-16 (1988)
High Sample Rate Drum machine

Midi digital drum machine from the end of the eighties featuring trigger pads and internal sequencer.




DRUM MACHINE (weight: 3 kg).
The main panel features a 16 x 2 lines display, 29 rubber buttons, a data slider and 16 pads (8 levels of curves response).

Back panel terminal connectors:
- main stereo out
- AUX out
- Midi interface
- tape Sync interface
- pedalswitch input for start/stop sequencer

Power supply is external with AC-AC PSU.



SOUND drum machines based on a single 8-bits 8031 manages 16 digital voices polyphony at 16 bits relative- DAC is a common chip Burr Brown PCM54.

STRUCTURE: a voice is composed by a single PCM sample with some basic edit parameters:
1- mix volume
2- pitch tuning (32 scaled values)
3- panning position (7 scaled values).






WAVETABLE internal ROM contains 49 samples organized in 6 groups:
A- 10 bass drums
B- 7 snares
C- 5 tomtoms
D- 3 hihats
E- 3 cymbals
F- 21 various percussives instruments.
EPROM PROGRAM it is possible to reprogram the PCM EPROMS with custom sounds, some free software are available for this job- there are 2 x 27C040 (512 Kb) + 1 X 27C256 for Os and samples assignment/name.







SEQUENCER can be recorded in 2 classic modes:
A- step mode (resolution up to 1/64 th)
B- real time with 10 quantizes levels and 9 swings/shuffle levels.
Various global edit functions commands such as ERASE, COPY or INSERT.









SYNC sequencer can be synched either to:
1- external Midi clock
2- tape sync protocol.





MEMORY:
- 100 songs
- 100 patterns (1 to 682 beats long)
Battery replacement: non-volatile RAM soldered 3.6 Ni-cad battery.
Data can be saved to Midi system exclusives or by magnetic tape dump.






MODIFICATION the HR-16 and HR-16B are cheap and often victim of circuit bending modification.
Here's a gallery of bent exemples:





picture 1 and 2 from EBay auctions, picture 3 from Ebay




RELATED FAMILY:

| | |
| --- | --- |
| | HR16B basically the same machine but with a different black case and a wavetable which eatures some different PCM waves- "B" version is considered as more rare and interesting, depends on taste. VIDEO |
| | MMT8 a sequencer with a very similar design VIDEO |

VST PLUGIN / SAMPLED VERSION there are some free and commercial samples set:


name
price
link
demo
DSK Mini DrumZ 2
FREE
donationware plugin contains all Hr16 samples plus other machines akai xr10 / Boss Dr55 / Roland Cr78 / Tr606 / Tr727 / tr707 / tr808 / tr909 and more.
logic-cafe

FREE SAMPLES
for LOGIC

N/A
HERE!
FREE HR-16 sample set
GET IT
N/A







Soundcloud Alesis HR-16






| | | |
| --- | --- | --- |
| | | |
| Overview | custom sounds EPROMs | circuit bent |




HR16 RESET PROCEDURE

turn on the power while holding these buttons ERASE,
DELETE
RECORD

Alesis HR-16 for sale






| | | | | |
| --- | --- | --- | --- | --- |
| | -some sounds are badly outdated | | REVIEW "Basic drum with easy sequencer which is nice for Midi control. Sounds are OK, maybe some getting really old- for this version B is better in my opinion." | |
all snapshots, sounds, texts copyright Polynominal.com / Eric Pochesci
alesis Hr16
based on
10
ratings. price
€100