Roland Tr808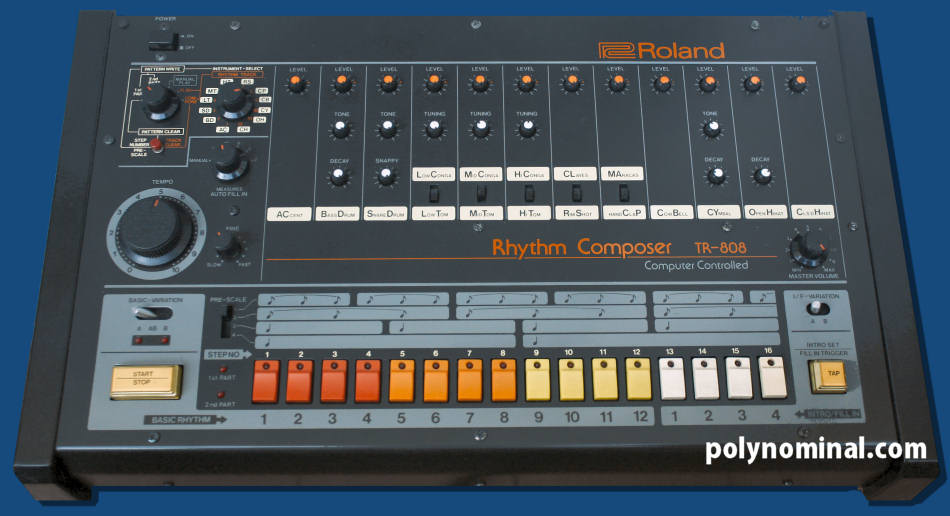 Roland Tr808 - Rhythm composer (1980)



Transistor Rhythm maybe the most famous drum machine in the world along with the Tr909 created by the Japanese dream team: Makoto Murio, Matsuoka and Nakamura.

"We all need a 808" - do we ? or is it a fashioned crush?




LAPTOP black case is mainly made out of steel with plastic sides -the machine is sturdy: about 5 Kg of analog circuits and... a superb design in orange & red color gradations. The main panel is clear with sorted instruments channels on upper part and note entry on the lower; there are 2 buttons, 18 tactile switches (model ALPS Skhcab) 8 switches, 6 encoders pots and 27 knobs. Back panel has these connections: Master out with double impedance Low-High, 11 individual outputs jacks, 3 trigger outs (generating +5V pulse) and a double pedal switch input (Start and Fill)

Power supply is internal, exists in both 220V and 110V versions.

VOICE main Core based on a 4bits CPU UPD650C-085 special custom Roland (version 0.85) manages 11 transistors analog channels each with own volume for mixing.


SOUNDS are so famous in the world (the kit became part of the official general Midi GM international protocol). The 808 has been used in a lot of hits from dance, pop, rap, rhythm and blues to electro or ambient, still widely sampled modern synths and drum machines: still after many years the BOOM subkick bass can blow up your speakers.
The dark box generates 16 instruments which 8 of them are circuits-shared :

-BD Bass drum with TONE (pitch) and DECAY parameters.
-SN Snare with TONE (pitch) and SNAPPY (filter balancing for white noise).
-LC/LT Low Tom or Low Conga with TUNING.
-MC/MT MID Conga or Mid TOM with TUNING.
-HC/HT HIGH Conga or High Tom with TUNING.
-CL/RS Claves or Rim Shot have NO CONTROL.
-MA/CP Maracas or Claps have NO CONTROL.
-CB Cowbell has NO CONTROL.
-CY Cymbal with TONE and DECAY.
-OH Open Hihat with DECAY.
-CH Closed Hihat.


SEQUENCER sequencer is top rated to be quite intuitive and very easy to use! It features a maximum of 64 patterns and 768 measures. There are 2 entry note modes:
- REAL TIME Select an instruments, start the machine and hit the TAP button.
- STEP IN Start and push one of the 16 switches steps (it gets illuminated).
Each part is split in A-B segment and the step number adjustable up to 16 x 2 parts, then patterns are chained to make a whole SONG.


QUICK PROGRAMMING GUIDE

1. Stop the rhythm with the START/STOP button. Set the MODE
selector to PATTERN CLEAR.
2. Select either the A or B Mode (VARIATION) and create a pattern
with the STEP buttons and the VARIATION switches.
3. Press the CLEAR button (little red one under mode selector,
variation LEDs will flicker.)
4. Set the MODE selector to PATTERN WRITE 1st PART.
5. Press the START/STOP button. (Machine will start)
6. Choose the PRE-SCALE. (4-way position switch situated above
step buttons)
7. Press the CLEAR button (you have now memorized the scaling)
8. While pressing the CLEAR button, press the key for steps.
9. Choose the instrument with the INSTRUMENT/TRACK selector.
10. Press the steps that are to be programmed
11. Program the other instrument sounds and ACCENT by repeating
steps (9) and (10).
12. Press the START/STOP button when programming has been
completed.

SYNC internal frequency clock range from 33 to 300 BPM or external sync (5-DINS) Roland Sync-24 system with others compliant machines like TR-606, MC-202 or Tb-303.

MEMORY is non-volatile and needs 1.5V batteries. Note that patterns and Songs cannot be saved to external media.

CLONES, SAMPLES and PLUGINS the 808 still sought-after and have many hardware clones around such as Novation Drumstation, Acidlab Miami, Analog Solution Concussor, Yocto and many more! not to mention hundreds of sample kits recorded with various preamplifier, valves, tapes and of course large amount of Virtual instruments.

MODIFICATION we did mod the beast l has transformed to rack version and heavy modded with these following features:



-Midi fitted Midi IN with Velocities and midi OUT for controlling other units.

- Can be clocked also to traditional Sync 24 or synched to an external Midi clock.












- immortal punchy sound.
- old school myth
-sequencer

- second hand high prices.
Second hand price: 2000 euro


"You HAVE to try a 808 once in your life: love or hate! "
| | |
| --- | --- |
| | |
all tr808 snapshots (but merchandising pictures are from ebay stores, we do not sell any of these gadgets.) , sounds, texts copyright Polynominal.com / Eric Pochesci