Roland Tr909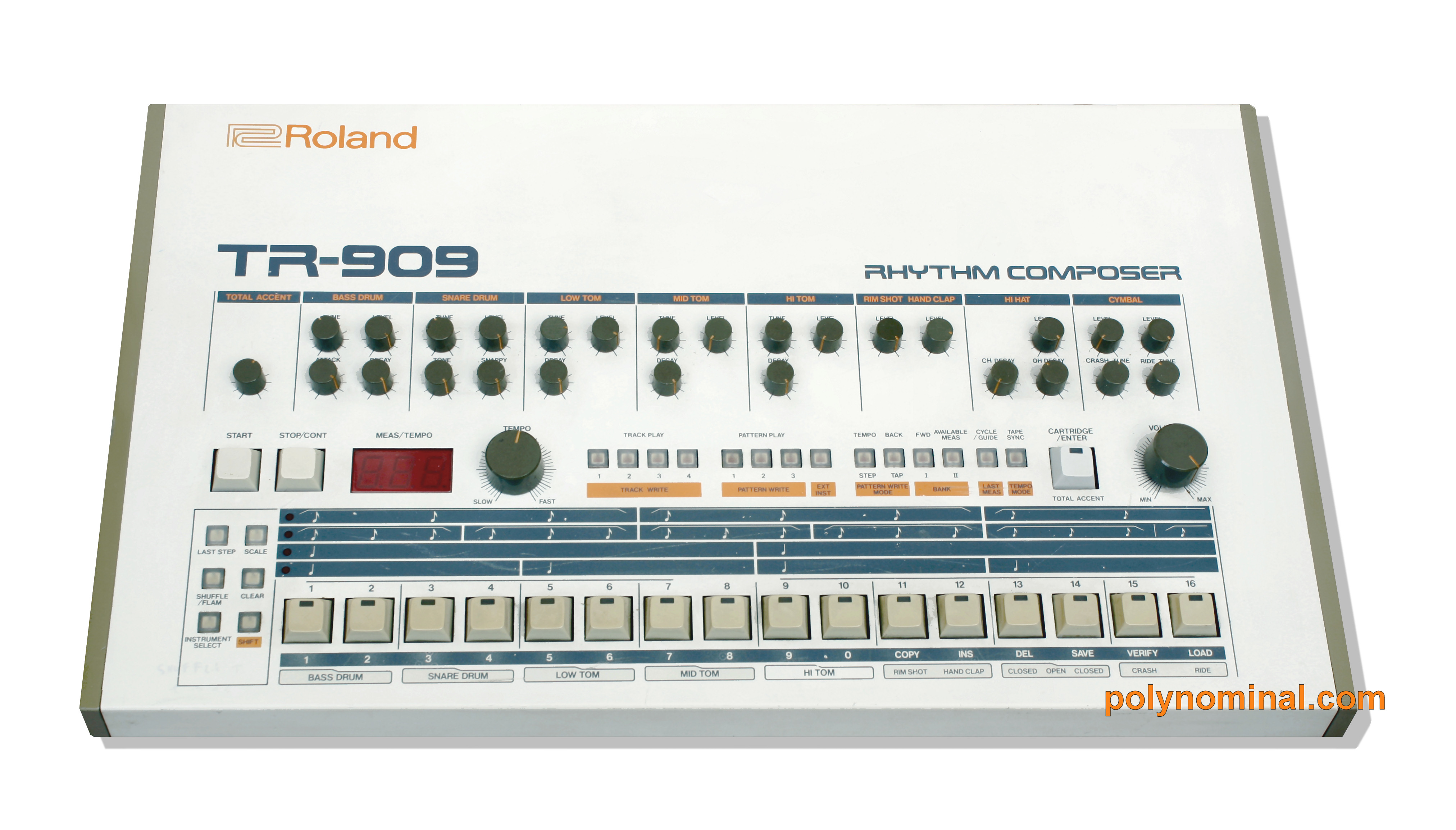 | | | |
| --- | --- | --- |
| | trend price : 2000€ | |
Roland Tr909 (1983)



The legendary cult drum machine considered maybe as sought-after as the elder brother Tr808. As incredible as it seems, the 909 was a commercial failure and Roland soon retired the machine from the market.

Sure we talk legend, over and overused sound... but today, do you really need an expensive TR 909 with some many clones and plugins around?




LAPTOP (4.5 kg weight) white cream color made out of plastic.
Main panel is split in two macro zones: sound edit and sequencer and features a basic display with red segments, 31 knobs + 23 buttons + 16 pads (no velocity).
Back panel terminal connectors: 1 Midi IN + 2 OUTS, a Sync 5-DIN IN, 2 jacks for main stereo OUT, Tape Sync (also Tape interface), 10 separate OUTS, trigger out (controlled by RimShot), a Pedalswitch input for START/STOP and finally a cartridge slot for RAM memory.

Power supply is internal.

SOUND based on a CPU NEC UPD7811G manages up to 10 voices each with individual mix level potentiometer. The 909 sound generation is split into two main groups:
1 ) analog
2 ) digital

ANALOG family is generated like by several mini-synthesizers with individual circuits with onboard VCO oscillators, Noise generators, Envelope VCA stages and filtered by Lowpass filters. Here's all the analog instruments:
- Bass Drum (Tune/ Decay/ Attack) famous kick from thousand of Dance, Techno, Detroit and whatever records sampled thousand of times! The legendary BD can be pitched or adjusted in the Decay Time (the duration) while ATTACK is not like a traditional synthesizer EG ADSR instead it adds a variable click at the beginning.
- Snare Drum (Tune/ Tone/ Snappy) can be also tuned. TONE pot emphasizes the VCF filter and the total Decay, while SNAPPY makes the Snare snappier adding more white noise.
- Tom three are available with same characteristics: Low/Mid/High (Tune/ Decay) can be changed in Tuning and Decay time-duration
- Rim Shot No control
- HandClap No control, very similar to Tr808 circuit with this kind of inimitable faked reverb in the sound.





DIGITAL family is generated by three PCM samples coded at 6 bits resolution 18 KHz Frequency stored in 32 Kb ROMS type HITACHI HN61256P.
The rest of the audio signal path is pure analog such as EG, VCF and VCA.
- Closed-Open Hi-Hat (Tune/decay ) just remember they cannot be played in the same time, the DECAY parameter makes a long open Hi-HAT.
- Crash (Tune) just tuning.
- Ride (Tune) just tuning.



SEQUENCER so simple and easy to make some grooves on the fly: just select one instruments, press one of the 16 steps (for 4/4) and press PLAY... easy! It is also possible to insert note in TAP WRITE MODE.
The sequencer can record 48 Rhythm Patterns (Measures 896 * 2 split into 16 * 3 Pattern Groups that can be chained in a maximum of 4 tracks with COPY, DELETE, CHAIN functions.
Let's see now three important functions that can enhance your track:
- ACCENT type A or B can make a specific step Louder for a single instruments or for all.
- SHUFFLE swings in % the quantisation more human rhythms, nice for some original and funky drum grooves to sample.
- FLAME a kind of Syncope on a step (does not works on rimshot , claps, hihats, crash and ride)



SYNC the tempo frequency range is from 37 to 290 BPM or can be synched to 24PPQ system or to Midi external clock or even to Tape sync.

MIDI it is also possible to trigger sound directly by Midi protocol:choose a channel 1-16, press C1 and here you go with the Kick! Midi is pretty limited, as there are no Control change, pitch bending o Modulation, Sysex exclusives but just plain NOTE ON-OFF.

MEMORY the patterns and songs are non-volatile with two 1.5V batteries located in the compartment. All data are saved to Tape dump or to a M-64C type cartridge.






| | | |
| --- | --- | --- |
| | | |
| Roland TR-909 Drum Machine demo | Roland TR-909 & Elektron A | TR-909 ROLAND TR-808 |

tr909 RESET PROCEDURE:

HOLD TRACK #1 AND PATTERN #1 AND POWER ON.





fun merchandising stuff: (these pics are from the web and unknown authors)


- expensive
- overused
-may need technical care



CULT

OPINION

"OK, it is an expensive techno toy and you do not care for this kind of sounds, but You will NOT find any clones, VST, fancy DIY that match a true tr90."
all snapshots, sounds, texts copyright Polynominal.com / Eric Pochesci
roland tr909
based on
18
ratings. price
€2000