Elka Synthex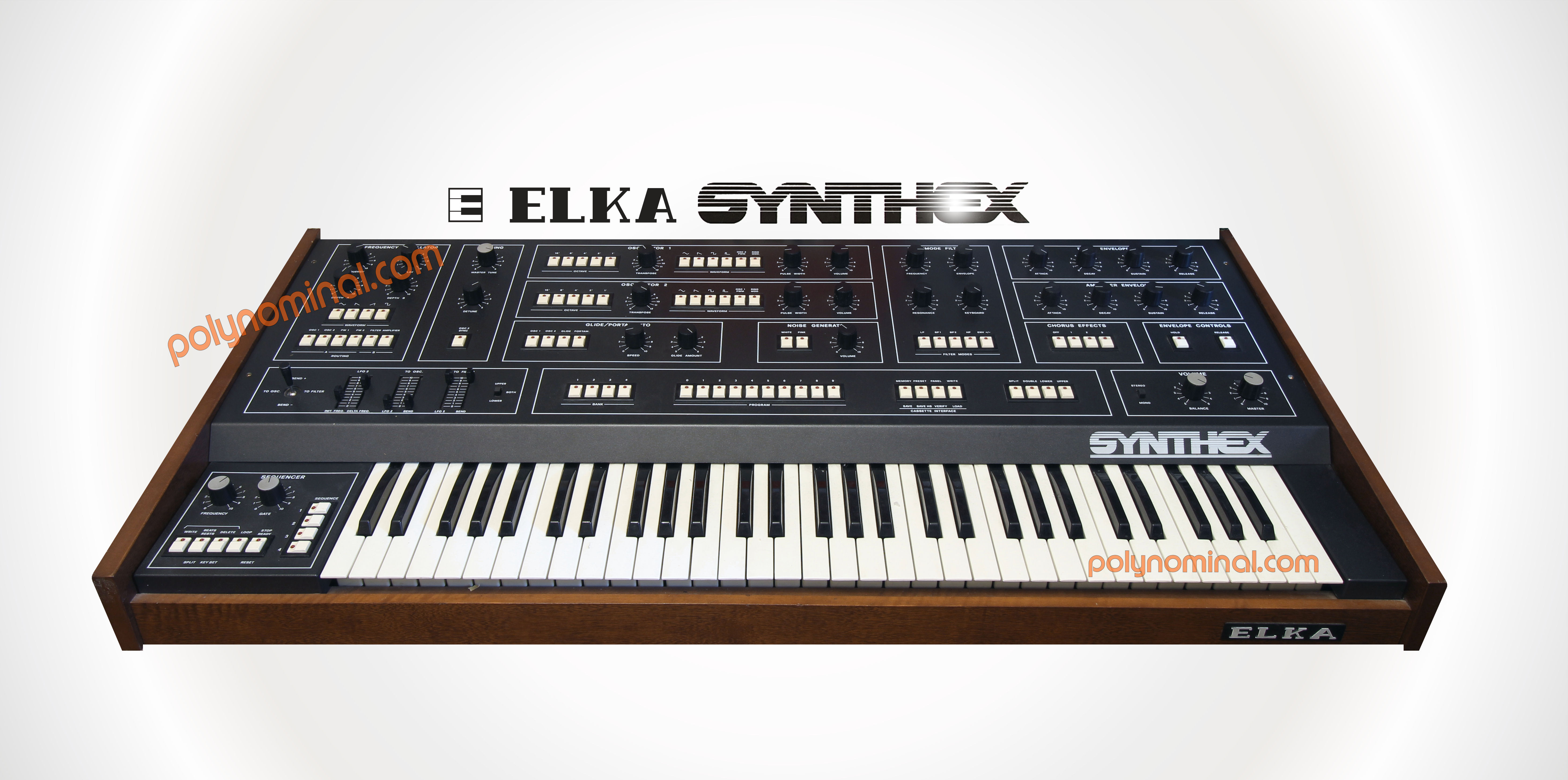 ELKA SYNTHEX (1981)

Big analog synthesizer designed by two italian organ societies Elka and Orla at the beginning of the eighties.


Today the Synthex reached the Olympus of all time "cult machine"maybe even more that the rival Prophet5.



KEYBOARD The Synthex is a huge machine with considerable weight (30kg) with a black metal panel and some very nice looking vintage wood sides. Originally it came with two legs hooked on the sides.

The panel is well organized and features 36 knobs, 84 buttons and 6 levers on the panel, while on the left side there' s a joystick for pitch bending (pic) and controls over the second modulation LFO.

The back panel (pic) has the following connections: Tape I/O (micro-jack) Sequencer Sync I/O with clock switch tab, two Jack outputs split voice boards in stereo Left/ Right, one pedal control for Filter VCF (Switch tab mode: Upper / Lower layer / both) and four footswitches input for a) Program up b) Envelope Hold c) Envelope Release 4) Glide control.
>TECH< A Midi interface is available on the second and third machine release, please refer to the production table below.


VOICES based on traditional subtractive synthesis.
A total of eight voices polyphony are generated by four boards with two voices on each with possible split in two layers of sound DOUBLE MODE or SPLIT.
There are two generated DCO per voice at 5 octave heights range 16' /8' /4' /2' /1' each generating four different waveforms Saw / Pulse PWM / Square / Triangle plus a summable external White / Pink noise generator with no control, but simple volume gain.
The DCO structure features a Detune potentiometer (+/- 5 semitones) or a SYNC button for hard synching Oscillator's pitches. Each oscillator also has a digital Ring modulator but with no preset depth between and a polyphonic Portamento / Glide Glissando to OSC1 /OSC2 /OSC1-2 with adjustable SPEED or GLIDE AMOUNT.

ABOUT SYNTHEX BOARD VOICES there are also some Synthex prototypes with different board, check out those links for more info about it :

- Prototype pictures
- Free schematics


LFO MODULATION two Low frequency oscillators with Frequency range from 0.02 Hz to 20 Hz.
LFO1 has Delay / Start, Depth and four different waveforms Triangle / Sawtooth / Ramp / Square destination to the Pitch and/or Pulse PWM and/or Filter OSC1 / OSC2 / PWM1 / PWM2 / VCF.
The second LFO is simpler and it' is directly triggered by the joystick for live Performance: vertically it acts as a normal pitch bender while horizontally it increases/decreases the LFO amount sent to DCO or VCF.

FILTER excellent multimode analog resonant filter based on eight Curtis CEM 3320 filter chips.
It has three main modes with possible Polarity inversion ENV + or - :

- "LP" Low Pass at 24dB/Oct.
- "BP1" Band Pass at 12dB/Oct or "BP2" at 6dB/Oct.
- "HP" High Pass at 12dB/Oct.




ENVELOPE two EG featuring four stages A-D-S-R.
EG1 for Amplitude (AMPLIFIER ENVELOPE) and EG2 for Filter; note that EG1 also has two extra function buttons "HOLD" and "SUSTAIN".


SEQUENCER four tracks steps sequencer with 128 events each (saved in memory), a Gate knob for long or short Envelope and five dedicated function buttons Write, Beats, Rests, Split, Delete, Loop and Ready/ Reset.
The notes are recorded in Real time or in "Step" mode then played back with transpose Shift; there's a potentiometer for Frequency play rate (TEMPO) or a Slave mode (you have to use the switch tab) for external +5V trigger pulses Sync.
>IHMO<The sequencer is very well designed and fun: you make loop ideas and sequences in a breeze... who need touchscreen? XD

FX Stereo mode sends each voice to right or left channel and a three modes analog stereo chorus with no possible editing.


MEMORY 40 ROM presets and 40 RAM user plus the "Panel memory" in other words the sound actually on the knobs.
No external storage nor Midi dump, as the ONLY way to backup your sounds is the tape Load /Save interface, but it is quite reliable and easy to understand.


MIDI Second and third Synthex releases feature a very basic Midi interface I/O that manages just "Note on" and "Note Off" data; absolutely no Velocity not even bender or modulation Control Change.
The Midi buffer is pretty primitive and the early CPU can easily freeze for data overflows or unknown digital streams (such as SMPTE) in this case just Switch the italian stallion OFF ... and ON!

Elka Synthex Production Series 1850 machines in total with different voice boards - but the sound should be 99 % the same depending on the circuits health.

Production I: 50 units (NO Midi)
Production II: 800 units (Optional external Midi)
Production III: 1000 units (standard Midi)

REPAIRS- MAINTENANCE This synth is also famous to be not the most reliable machine in the world: the voice board 's lifespan is quite unpredictable. Fortunately there are not so many custom ICs onboard and it' s mainly build with common electrical parts most of them still widely available on the market.
The Synthex is quite "easy" to fix, so you should not worry too much about this aspect on the future, just be friendly with you trusted technician.

| | |
| --- | --- |
| electronic +spring reverb MAM | |
| Jarre Laser harp | |

| | |
| --- | --- |
| Synthex vs Roland Tb-303 - drum by Tr909 | |




| | |
| --- | --- |
| prototype synthex demo by s. Codazzi 1 | |
Massive polyphonic sound
- Sequencer
-Memories

- may needs some technical care
- basic midi
-High price

PERSONAL OPINION:

All time classic ! The Elka Synthex is one of few analog polyphonic-structured machine able to boast deep bass, rich strings and complex magical electronic sounds, all in 30 Kg of massive circuits.

Second hand price: 4000 euro+

 
Sponsored LINKS:
all snapshots, text, sounds copyright Polynominal.com
---
All manuals (free of charge), trademarks are just for info purpose.Nothing should be considered as advertising, and I stricly express my point of view on review.Names and other trademarks are the property of the respective trademark holders.Ask to have material: don't rip.All sounds and snapshots by Eric Pochesci- except marked * Snapshot watermarked to avoid Ebay scamms and fraud.WARNING Some mp3 contains very high frequencies and COULD damage your speakers, pay attention to volume!