Sequential Circuits Drumtraks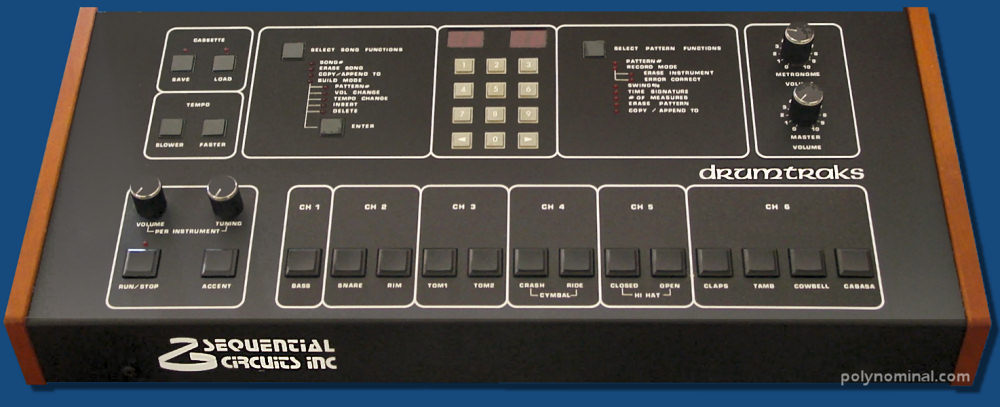 Sequential Circuits Drumtraks - model 400 (1983)


From the famous guru Dave Smith, a programmable and editable sample based drum machines with analog filters.

Drumtraks never reached the Linndrum or DMX popularity... why? is it still worth a buy? let's find this out!



LAPTOP full metal drum box with beautiful wooden sides, solid and heavier than it looks (approx 12 Kg.)
The main panel features a very simple 4 digit red display, but it's enough since there's not much parameters ! in fact all programming job is done with 4 knobs, 9 buttons, a numeric pad 0-9 s and 13 dynamic trigger pads for sounds play and recording.
NOTE: I had some troubles with some trigger pads, but after a good clean they were just perfect! just open the switches DELICATELY.

Back panel (pic) has these connections: six individual jack Outs for each drum channel, a general mix out, Clock output, Metronome output (+5v), Midi I/O (no thru) and a tape interface.


The AC is internal (some 110v or 220v or both).


VOICES The main core is based on a 8 bits NEC D780C-1 CPU (Z80 - ZILOG family) that manages and sequences 13 PCM waveforms on six different voice channels. Each sound has a Volume gain and a Pitch tune quantised into 15 different segments.
All PCM sounds are coded at 8 bits resolution and stored on socket EPROM and TOM channels are filtered by famous Curtis Cem3320 (info) for a greater dynamic.


PCM VOICE ALLOCATION:


Channel 1: Bass Drum
Channel 2: Snare / Rim
Channel 3: Tom 1 / Tom 2
Channel 4: Crash cymbal / ride Cymbal
Channel 5: Open / closed HH
Channel 6: Claps / tambourine / cabasa /cowbell

EPROM There are also "new" sample sets still available on the market, just change the socket EPROM.
Amazing that still today some people like to burn 2 Kb stuff for old schooler's joy!
Here's some sound clip from some sound expansions:

| | |
| --- | --- |
| Bass drum | |
| Snare | |
| Toms | |
| Various | |

SYNC internal frequency tempo range from 40 to 250 BPM.
It is also possible to sync it as slave with other drum machines or sequencer by Midi clock or with analog sync IN at 24 /48 /96 PPQ resolution (outputs only 24 / 48 PPQ).

MIDI One of the first box with MIDI implementation (Mr. Dave Smith dixit) each sound can be triggered with velocity and pads outputs Midi data with Velocity.
TIPS: To change the channel number follow this procedure "While holding ENTER and 0, select channel 1-16 with INC/DEC".


MEMORY the RAM is retained when switched off thanks to an internal soldered lithium battery.
The system backups Datas to tape dumo or simply with exclusive system Midi dump (quite impressive for its age).


The original brochure mentions also a dedicated software developed for Commodore 64 called "model 910" for edit and archival purpose.... I missed that one! if you have info (or the soft) please get in touch !

SEQUENCER two main modes: Pattern and Song.
The memory has a maximum of 3289 notes allocated to up to 99 different patterns and a pattern contains 100 measures in any time signature.
Overdub allows recording any instrument in real time or quantized to one of eight available resolution levels from 1/2 to 1/96 in ten values: 1/2, 1/4, 1/6, 1/8, 1/12, 1/ 16, 1/24, 1/32, 1/48, 1/96 or swing mode % for some more groovy parts.
Up to 99 songs can be defined which can consist of up to 100 steps.


Drumtraks SAMPLES!DOWNLOAD FOR FREE
- midi
- sequencer
-good dynamic

- outdated sounds

PERSONAL OPINION:

Old school drumbox and FUN programming plus Midi benefit, that's great! Sadly the sound is getting old... and not so good, in particular the drum bass sucks a bit.

Second hand price: 200/300 euro

| | |
| --- | --- |
| | "may peace prevail on earth"- drumtraks designers |

 
Sponsored LINKS:
all snapshots, sounds, texts copyright Polynominal.com / Eric Pochesci
---
All manuals (free of charge), trademarks are just for info purpose.Nothing should be considered as advertising, and I stricly express my point of view on review.Names and other trademarks are the property of the respective trademark holders.Ask to have material: don't rip.All sounds and snapshots by Eric Pochesci- except marked * Snapshot watermarked to avoid Ebay scamms and fraud.WARNING Some mp3 contains very high frequencies and COULD damage your speakers, pay attention to volume!