Red Sound Darkstar XP2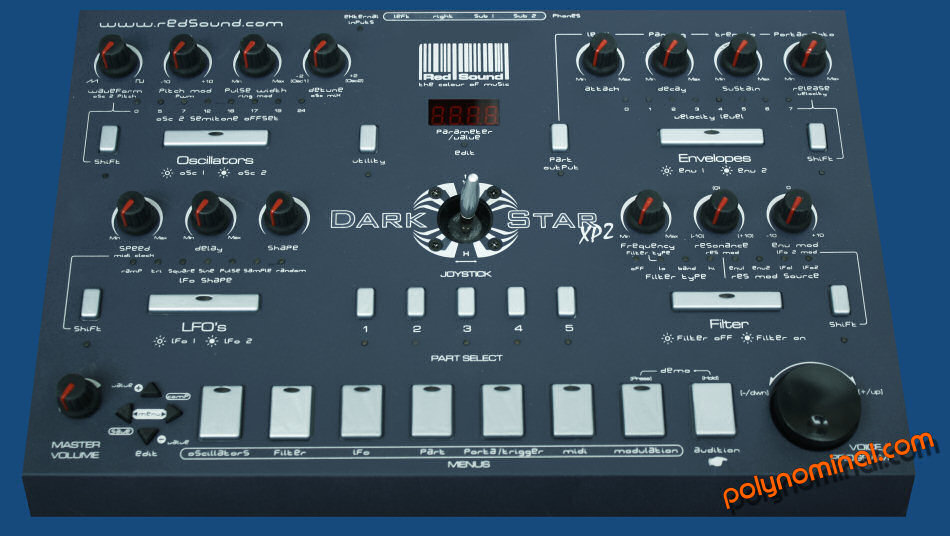 Country: UK
Weight: 2,5 Kg
Dimensions: 340 x 230 x 50 mm
trend price : 200€
Red Sound Darkstar XP2 (2000)
8 voices polyphonic synthesizer

Desktop Virtual analog synth module - a revamp previous version DARKSTAR MK1 with a new grey design and some minor enhancements.
DESKTOP MODULE optional rackmount kit (5 units height ) model "Rack-02". The main panel features a segment display, a control joystick, a rotary encoder 15 knobs, 8 pads and 22 buttons.

Rear panel terminal connectors are:
- input for external signal processing
- Midi interface
- jack stereo out
- headphones.



Power supply 9VDC external PSU +)- 800 mA.






VOICE XP2 synthesis is based on VA physical modelling generates 8 voices polyphony.
There are 2 detunable oscillators per voice:
- OSC1: progressive from saw to square waveform with variable width.
- OSC2: is much more complex with same progressive OSC1 waveform plus two special modes: formant and sinewave mode. Also a noise generator with 3 colors pink/ white/ blue.
Oscillators can be ringmodulated in this way: OSC1 > OSC2.











PERFORMANCE the 8 voices polyphony can be assigned to 5 parts each with individual settings:
- keyboard zone assignment
- Midi channel
- panning stereo
- gain volume
- pitch transpose
- monophonic mode (8 glide modes)
- aftertouch to filter
- aftertouch to LFO.








VECTOR the joystick can be used to control different parameters in real-time:
- vector mode mixes between part volumes
- ringmodulator ratio
- filter cutoff and resonance amount.





FILTER digital 2-poles resonant filter features 3 modes: lowpass, highpass and bandpass.
Special keyboard tracking at 25, 50, 100, 150% of cutoff compensation.







ENVELOPE there are 2 EGs with quite free routing:


| | | |
| --- | --- | --- |
| | EG1 | EG2 |
| OSC1-2 amplitude | hardwired | - |
| OSC1-2 pitch | yes | yes |
| OSC1-2 width | yes | yes |
| filter resonance | yes | yes |

LFO up to 2 interchangeable delayed digital modulators (shapes: ramp, triangle, square, sine, pulse, sample-hold and random). Modulators can be retriggered at notes, synched to external Midi clock at various dividers from 1/8th beat to 4 bars.
LFO Destinations are:
- OSC pulse width
- OSC amplitude
- OSC pitch
- stereo panning
- filter resonance





EFFECT a digital chorus is included with variable rate/depth.






MIDI all parameters are mapped to Midi CC# and the knobs transmit also this controller.





MEMORY
- 64 RAM slots.
Patches and performances can be only saved to Midi exclusive dump.

EDITOR not much softwares has been released for this module but the "Dark Star Editor".



RELATED FAMILY:




Darkstar classic MK1- first version version with different design.

mk1 vs XP2 differences: Mk1 features RCA instead of Jack, no headphones, lacks the chorus and special SINEWAVE mode (for OSC2).


ELEVATA is another VA from REDSOUND VIDEO
















Darkstar XP2 reset procedure

Press and hold down the [PROGRAM]
button power on. The main display will show 'SURE' to prompt confirmation of the load. Press the
MENU [EDIT] button marked 'VALUE +''



Dates: 2000
Price: 200€
Synthesis: Virtual analog
Polyphony: 8
Oscillator: 2
Filter: digital BPF / HPF / LPF
Lfo: 2
Memory: 64 slots








REVIEW "A little better than mk1, but still the interface is not so intuitive. Anyway, it is quite rare, not my favourite VA, but give it a at good price."


| | |
| --- | --- |
| | |
| -enhanced mk1 | - display/edit |
| -vector joystick | -polyphony |
| -rare | |



"Welcome to DARKSTAR XP2, an 8-voice polyphonic synthesiser with all the highlights of the analogue tradition,Pulse Width Modulation, Ring Mod, Resonant Filtering and ADSR Enveloping, combined with all the advantages ofmodern MIDI instruments like rock-solid tuning, perfect program recall, velocity response and 5 different timbres simultaneously available". Redsound
all snapshots, sounds, texts copyright Polynominal.com / Eric Pochesci
redsound darkstar XP2
based on
1
ratings. price
€150