Triadex Muse
Country: USA
Weight: / Kg
Dimensions: / mm
trend price : 1000€
Triadex Muse (1972)
Computer Musica Synthesizer
MIT (Edward Fredkin / Marvin Minsky)

Rare algorithmic music generator based on a single oscillator with visual vintage sequencer.

Very limited machine moslty used for random notes generation, but quite a piece of story
SEQUENCER no display nor keyboard. Just a main panel 12 sliders and 2 tab switches for notes edit. Some green indicator light, very eye-candy!

Back panel terminal connectors with molex:
- audio out with possibile dedicated amplifier module
- sync IN/OUT with other unit
- connector for dedicated Visual unit "light show"



TECH Monophonic manchine. The internal sound generation is based on a single VCO with square shape. It is not possible to modify the sound in any manner but some basic controls on the sequencer.






SEQUENCER internal digital logic circuits (eatly computer based) to produce a sequence of notes based on the settings of various parameters. There are 4 basic controls for the MUSE:


- Volume sets the overall gain


- TEMPO sets the sequencer frequency speed


- PITCH sets the coarse tuning

- FINE PITCH sets the fine funing

- REST is for note pause






SYNC The sequencer can be sets to 3 modes:


- AUTO uses internal clock with random generation

- STEP step by step (can be synched using EXTERNAL TAB daisy chaining with other unit)

- HOLD plays and freezes to actual STEP


SEQUENCER PROGRAMMING called the "COMPOSER SECTION- The three regions of the "Muse" generate 1 and 0 in slightly different ways. The On-Off region is the simplest. The "Off" position is always in the zero state, while the "On" position is always in the one state. The positions in the Count region shift between zero and one states in the following manner.


After starting the"Muse", C1 alternates between zero and one at each beat of the tempo clock. Thus, an Interval slide placed on C1 sees an alternate zero and one.

The C2 position is in the zero state for the first two beats of the tempo clock and then goes to the one state for the next two beats before returning to the zero state for the following two beats, etc, The C3 position is in the zero state for three beats of the tempo clock before switching to the one state for three beats.

C4, C6, and C8 operate in a similar manner. C1/2 is in the zero state for one half beat and then switches to the one state for the second half beat.





MEMORY no internal memory but panel. The manual reports some "preset" template sheets, listen to pferct rendered version:

birds
cuckoo
Dorian Muse
Mesopotamia
Micheal 's tune
Xmas bells

| | |
| --- | --- |
| | Triadex EXTERNAL AMPLIFIER a simple amplifier with same retro design. |
| | Triadex Light show represents notes with light colors. Quite Vintage like an old sci fi movies! |
| | FUTURE RETRO ZILION single track algorithmic MIDI sequencer a kind of remake |

VST PLUGIN / SAMPLED VERSION no official plugin nor samples resource


GALLERY:


Company: Triadex
Model: Muse
Dates: 1972
Display: none
Technology: analog
Polyphony: 1 voice
Multitimbral: 1 part
Oscillators - 1 VCO
Waveform: Square
Filter: None
Envelope : None
Sequencer: 1 track
Sync: custom chain
Memory: None



DEMO:



birds
cuckoo
Dorian Muse
Mesopotamia
Micheal 's tune
Xmas bells

have some Muse
demo? upload!






SPECIAL AWARDS:

| | |
| --- | --- |
| RARE | DESIGN |






REVIEW "Fascinating object especially with light module! totaly useless for really fun and a valuable item collector"


| | |
| --- | --- |
| | |
| -rare | - limited |
| -design | - expensive |



copyright Polynominal.com polynominal.com is not associated or affiliated with TRIADEX in any manner.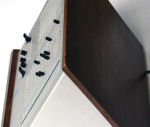 TRIADEX MUSE
82
out of
100
based on
1
user ratings
800
to
1000
from
1
sellers Sellers:
...