Yamaha DD-5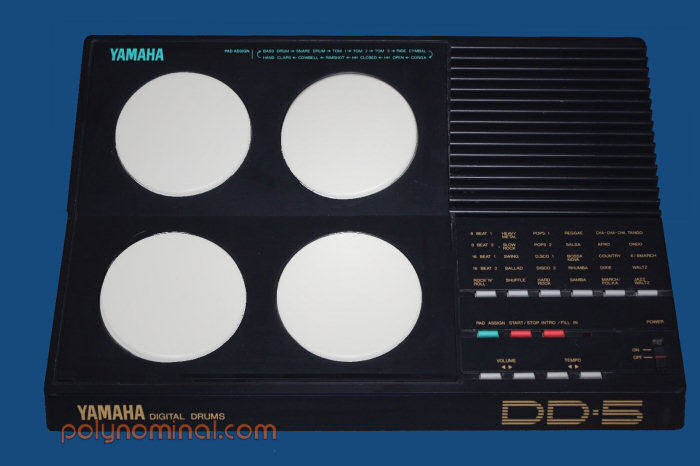 Country: JAPAN
Weight: 2,4 Kg
Dimensions: 380 (w) x 272 (h) x 81 (d) mm
trend price : 40€
Yamaha DD-5
Digital Drums (1990)

Budget rompler drum pad with basic functions, rhythm patterns and a Midi output feature.
DRUM PAD internal 2W speaker.
The main panel features 4 sensible pads, 13 buttons for edit functions and 2 red sticks into the apposite latch.


Rear panel terminal connectors:
- Midi out
- signal out (it disables internal speakers).



Power supply external 9V DC +)- polarity or 6 X 1.5V batteries.






VOICE a 4 voices polyphony system based on low-fidelity samplers (companded 8 bits?).
Just 12 PCM sounds onboard: kick, snare, tom (x3), ride, handclap, cowbell, rimshot, hihat, conga* (*only accessible only preset patterns)








Listen ALL sounds onboard








MEMORY up to 30 patterns presets split into 6 banks: rock, salsa, march, country, dixie, pop, waltz, shuffle, afro, rhumba, disco, pola, chacha, ballads and ondo.... eh ondo??












SEQUENCER no possible edit but some little variation using the INTRO and FILL functions.
Internal tempo range from 32 to 280 BPM and no possible external clock.








MIDI the pads output 16 levels of velocity, the implementation is really limited, do not expect a sophisticated Midi controller.






DD5 CIRCUIT BENDING
like many cheap drum toys, the DD5 is one of the most appreciated victim for circuit bending.
Seems that PCM are stored in a IC XE312A0 if you want to try out (at your own risk!)

left pic: Battered BENT DD5












SPECIAL AWARDS:

| | |
| --- | --- |
| | |
| embarassing sounds | Meat for Bending |









REVIEW: "Simple and cheap Midi controller, now bargain prices! sounds and presets are not so memorable. Useful for bending if you care about it."


| | |
| --- | --- |
| | |
| - cheap | - limited |
| -Midi out | - sound :( |
| | - No Midi input |



all snapshots, sounds, texts copyright Polynominal.com / Eric Pochesci
Yamaha DD5
based on
6
ratings. price
€30