Yamaha Tx81z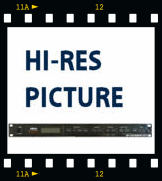 Yamaha Tx81z (1987)

A budget rack featuring a FM variation of traditional DX 6 OP.

Expander version of the Dx21 / Dx27 / Dx100- 4 OP synthesize with some interesting technical enhancements.
RACK a black one unit expander - 3.4 kg weight.
The front panel has an headphones out and 11 buttons for all the programming directly on a 2 X 16 lines LCD with active matrix, a bit hard to edit and no always so obvious to understand, better use an external editor instead

Back panel (PIC) has the following connections: a two pairs of audio outputs (the second one has special audio routing in Performance mode), the tape I/O for storage backup / restore and a midi IN /OUT /THRU.

Power supply is internal and some latest (or international) versions have a switch between 110v and 220V.

VOICE Main core is a HD63803XP hitachi that manages 8 digital voices.
Budget spin-off from the famous Yamaha DX7 FM synthesis, however the tx81z has some interesting technical improvement.
Traditional DX7 FM was based on six operators with fixed Sine waveforms and 32 combinations called "algorithms", while the internal YM2414B (PIC) has only eight combinations. On the other hand, the new YM it boasts eight different waveformsincluding classical Sinusoidal + seven computer generated harmonics variations with partials and fundamentals fixed settings, and like DX family synthesis, each can be either Carrier or Modulator.



PERFORMANCE mode with a maximum of eight parts, each with independent settings including Volume / Midi Channel / Detuning / Effects (see below) / Pan position.
Performance part has also some factory presets like 2 x 4 stacks or 8 x 1 monos, great for some thundering "Lately bass" sound.
<TECH> Unfortunately Midi response (depending also on the OS EPROM from1.0 to 1.6) has some "freezes" with Midi flows, and keep also in mind that Performance mode can' t layer some particular patch algorithms combinations.
A special MONO play mode is available with Portamento and Glide time adjust.

LFO two digital Low Frequency Oscillators (frequency range from 0.007Hz to 50Hz) with variable waveforms Saw / Square / Triangle / Sample & Hold can modulate Amplitude and Pitch.
A LFO has some extra parameters such as Delay Start or note Sync (modulation re-trigger).

ENVELOPE each Operator have its own Amplitude EG, so four EGs in total, each with four segments + 1 general shift.
The Envelope section also features a very simple Key Tracking Scale, less complicated and effective than the DX 6-Op family.

EFFECTS not a real DSP but "faked" simulated with others Midi notes reducing the (tiny) polyphony.
Three generated effects Delay with pitch shift and adjustable Feedback / Pan moving: stereophonic path with follow velocity or LFO from left to right or vice versa / "Chords" with a maximum of four notes.

MEMORY 128 ROM presets, 32 ram users, 24 RAM Performances - full sysex dump and edit over Midi or tape dump . No external storage is available.
The RAM memory is retained with a lithium battery type soldered 3V Cr-2032 (click on the picture to zoom In).
Remember to do backups before any replacement attempt!

>TECH< MIDI sysex strings are NOT compatible with classical 6OP DX line.

MICROTUNE like all DX machines the 4-OP structures has also this features with 13 tables: 11 ROM preset 2 users for non standard intonation including Equal, pure major/minor, Vallotti and Werckmeister.

| | |
| --- | --- |
| You spin me like a tx81z! 100% done with TX81z | |

| | |
| --- | --- |
| tweaking on "Lately bass" preset.... | |






Free SF2 65mb sample pack!!! 4 patches: FM FARFISA, DX TINES, MELLOW SQUARE AND FAMOUS LATELY BASS!
- today cheap
- variation of Dx7 FM
- sinus variation

- Edit
- midi buffer
- polyphony
-two outputs

PERSONAL OPINION:

Totally aggressive digital sound! now very cheap but needs a lot of time for programming for some nice results ! and... You DON' T need tines FM rhodes, do you?

(second hand price : 50- 100 Euro)
Sponsored LINKS:
all snapshots, sounds, texts copyright Polynominal.com / Eric Pochesci
---
All manuals (free of charge), trademarks are just for info purpose.Nothing should be considered as advertising, and I stricly express my point of view on review.
Names and other trademarks are the property of the respective trademark holders.Ask to have material: don't rip.All sounds and snapshots by Eric Pochesci- except marked *
Snapshot watermarked to avoid Ebay scamms and fraud.WARNING Some mp3 contains very high frequencies and COULD damage your speakers, pay attention to volume!