Moogerfooger Mf 104Z analog Delay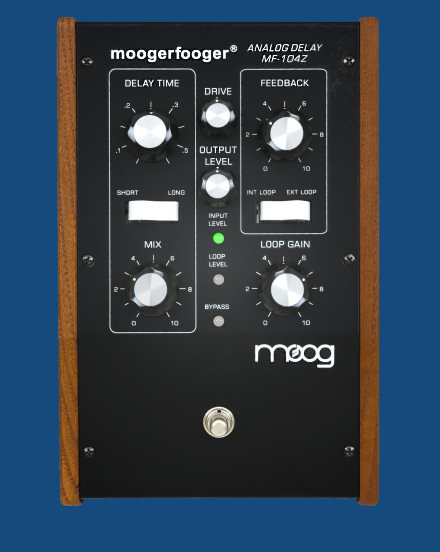 Moogerfooger Mf 104Z analog Delay (2005)

A true analog delay for the moogerfooger family, improved version of the classic MF104 model


The "Z" is boasted to be one of the best analog delay stomp box.. but is it true ?




PEDAL mf104 iz is made of metal with classic wood sides and overally good build, besides under the hood there's the print "Made in USA" - if you and uncle Sam care about this.
The panel has six knobs in pure Minimoog style: two switch tabs and another switch button for activate or deactivate the effect - it is NOT true Bypass.
Behind the wood-moog box (pic) there are these connections: audio Mixed out jack (Dry + Wet), only wet Delay out, audio IN, 3 X CV control voltage Inputs for a) feedback b) time and mix balancing c) and Loop signal I/O.

Power supply is external with 9V negative in center- 500 mA .


PANEL POTS let's see the pots functions in detail:

- DRIVE the input gain: hook up a variety of instruments from synth to guitar since the input has a wide impedance range and a standard led diode signal overloads.

- DELAY TIME ajust the delay time range from 50 Ms to a max of 1000 Ms of delay.
The white tab switches range between "SHORT" from 50 to 500Ms and "LONG" from 100 Ms to 1 second.
This is a pretty long time for this kind of technology, in fact the "Z" version is longer than the previous delay model Mf104 featuring a tiner range of 40 milliseconds to 800 Ms.
I heard ther's also a third version called Mf-104SD that should be the longest going over 1 second of delay.

- MIX adjust balancing between Dry and Wet

- FEEDBACK adjusts amount of a delayed signal sent back to internal processor OR souted to external loop path - mode change with the dedicated white tab,

-OUT the overall output volume gain.

- LOOP GAIN adjust the amount of signal sent to LOOP IN (see FEEDBACK LOOP)


SOUND TECH MFZ based on Panasonic MN3008 bucket brigade chip- a few supply were available so Moog made this "Z" limited edition.
The sounds as you can expect is warm and "round" contrary to common digital altough is has typical minor tonal degradations on the delayed sound.
All functions are really easy and sound routing is flexible and experimentation is quite obligatory using the Control CV or modular system.
The "feedback loop" is also essential for total and infinite feedback saturation and crazy returns.

FEEDBACK LOOP switching the tab to external it activates the feedback mode: the signal path instead of going back to internal processor will be routed to external loop circuit and back again thru another unit of your choice.
With high feedbacks values results can be radical and totally weird- be sure to try this.



- good sound!
- Signal routing

- outrageous PRICE!

PERSONAL OPINION:

Well it's a Moog! It's a (well made) and good sounding simple analog delay based on bucked brigade BBD- like many others. The model is rare, but not the sound.

Don't spend more than 300 euro for this. not worth
Sponsored LINKS:
all pics, sounds, texts copyright Polynominal.com / Eric Pochesci
---
All manuals (free of charge), trademarks are just for info purpose.Nothing should be considered as advertising, and I stricly express my point of view on review.Names and other trademarks are the property of the respective trademark holders.Ask to have material: don't rip.All sounds and snapshots by Eric Pochesci- except marked *Snapshot watermarked to avoid Ebay scamms and fraud.WARNING Some mp3 contains very high frequencies and COULD damage your speakers, pay attention to volume!