Moog Minimoog D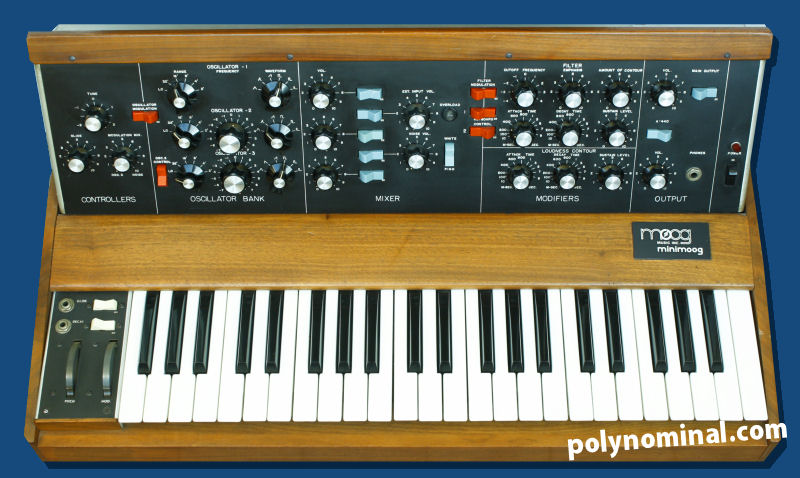 MOOG MINIMOOG "D" (1971)

Produced for more than ten years, born to be a simpler and portable version of the Moog modular systems without any complicated patch cords floating around the feet.

Also defined as "D" as the fourth model out of a production of prototypes. Here's the D! this paricular model is one of the first called "old school" special edition with trasparent wheels.



KEYBOARD Fine wood case with clear wood, total vintage pleasure! the keyboard has 44 keys with no Velocity.
The black graphite panel has adjustable gradient slope and features 6 selectors and 15 switch tabs and 21 knobs really precise and sensible, in fact the sound drastically changes at each movement, perfect for subtle sonic nuances.

On the left side (pic) there are two wheels for Modulation and Pitch with two tabs for the Envelope Decay (or note finishes after key press) and the Glide function with Low Priority system as the Mini does not retrigger the EG during Legato play.

Back panel has these connections: audio outputs HIGH and LOW impedance, an audio input line for external processing (a white lamp flashes overload) and four inputs for external control CV VCA Loudness / CV VCF Filter / 1v/Oct. CV Pitch Oscillator / S-trig (a negative inverted Switch trigger- variant of classical GATE system).

Power supply is internal. Exists in both 220V and 110V.

VOICE Monophonic analog generation with three detunable VCO each with own Amplitude values in central mixer section .

VCO1 is the so called "Master" and drives general Tuning, while the two other ones are detunable about +- 7 half tones on a five octaves range 32'/ 16' / 8' / 4' / 2' height, plus special "Low position").
->NOTE Tuning the three oscillators is the first task to do after switching on, for this there 's the very useful LA -/ A-440 switch on the panel for tuning... a kind of ritual for Minimoog users.

Oscillators have a total of six different waveforms Triangular / Sawtooth / Square / Wide and Narrow Rectangular / Saw-triangular (NOTE: Third VCO has Reverse Saw instead) plus an external white- pink noise with no control, except Volume gain.
VCO voice circuit is really genuine perfectly in symbiosis with the Ladder filter, backbone of the Moog sound, so true that the all-time rival Arp Odyssey attempted many times to clone it.
If you mean "FAT" sound you mean MINIMOOG "D".




FILTER resonant Low Pass -24 dB/ octave filter with Cutoff Frequency and Contour amount around the Q point for Resonance, here called "EMPHASIS".
The filter VCF auto-oscillate up to a perfect sinusoidal waveform, then lowers volume a bit of gain at high emphasis.
Other VCF features are External process IN (audio line) and two differnt modes Keytracking called "KEYBOARD CONTROL" for Cutoff compensation over octaves.

LFO VCO-3 can be deactivated and transformed to a Low Frequency Oscillator, and its realtive oscillation frequency is defined by the modulation wheel movement.
The LFO modulates VCA pitch for VCO1-2 / VCF Cutoff but has no time delay.
-> NOTE switching VCO-3 to LFO deactivates the VCF Keytrack function.

ENVELOPE two enough fast EGs (does not reach the Snappy RSF Kobol)
First one defines Filter, second one VCA both with three segments called "A/ D /S".
A Release time can be added for both VCA and VCF simply pressing the realtive tab button, automatically the EG gets the same Value from Decay segment.

MEMORY None - Download blank sheet on the right column.

RELATIVE MODELS :

MINIMOOG VOYAGER a new reissues from 2002 more flexible signal path, useful Midi I/O, Memory for patch and setup, very good filter (the same of the mooger fooger) but somehow the sound is not so close to the original, probably for the new redrawn oscillators design... but the ladder filter seems to be perfect! but hey, not necessarily a bad point, but that' s a different synthesizer!

STUDIO ELECTRONICS MIDIMINI an original Minimoog in a rackmount box plus some extra goodies made by Studio Electronics, a company now producing some modern (and less fat) analog synths.




| | |
| --- | --- |
| Back in Bach à la Wendy Carlos | |

| | |
| --- | --- |
| Various random noise and modulations | |

Blank Sheet



- it's a Minimoog!!
- fat !
- best filter !

- HIGH price !!
- no dedicated LFO (just to say something!)

PERSONAL OPINION:

I believe a D is still a masterpiece of genius and not only a marketing product: a true musical instruments with a "soul" and a thundering fat sound never reached by any other monophonics.

"An electronic music synthesizer is a musical instrument whose circuitry can be interconnected and set up in a large variety of ways to produce a broad spectrum of musical sounds. The component circuit controls and interconnections of the Mini Moog Synthesizer are arranged in a logical and convenient way which is ideal for live performance." - Moog Manual
Sponsored LINKS:
MINIMOOG TECHNICAL DATA:
SOUND SOURCES

NO. OF SOUND SOURCES: 5 (3 Oscillators, 1 Noise Source, 1 External Input/Microphone Preamp).
OSCILLATOR FREQUENCY: 0.1 to 20,000 Hz.
OSCILLATOR WAVEFORM OUTPUTS: Triangular, Sawtooth, Triangular-Sawtooth Mix (Osc. 1 & 2 only), Reverse Sawtooth (Osc. 3 only), 3 widths of Rectangular.
NOISE SOURCE OUTPUTS: White or Pink random waveforms.
PREAMPLIFIER INPUT: 10 millivolts minimum; 2 volts maximum.
PREAMP INPUT IMPEDANCE: 100K ohms or greater.


FILTER
FILTER CHARACTERISTIC: Wide-range lowpass filter with variable-height resonant peak at cutoff frequency, and 24 db/octave cutoff slope.
RANGE OF CUTOFF FREQUENCY: Continuously variable from 40 Hz. to 20 KHz. (9 octaves).
VOLTAGE-CONTROLLED AMPLIFIERS
NUMBER OF AMPLIFIERS: 2 (one controlled only by its Contour Generator; the other controlled by optional external controller).
DYNAMIC RANGE OF EACH AMPLIFIER: 80 dB.

CONTOUR GENERATORS
NUMBER OF CONTOUR GENERATORS: 2 (one controlling Filter through an attenuator; the other controlling the first Voltage-Controlled Amplifier).
RANGE OF ATTACK TIME: 10 milliseconds to 10 seconds.
RANGE OF DECAY TIME: 10 milliseconds to 10 seconds.
RANGE OF SUSTAIN LEVEL: 0 to 100% of contour peak.
WIDTH OF SWEEP OF FILTER BY ITS CONTOUR GENERATOR: Continuously variable from 0 to 4 octaves.

AUDIO SIGNAL OUTPUTS

HIGH LEVEL OUTPUT: 0.5 volts typical, with 3K ohms nominal output impedance.
LOW LEVEL OUTPUT: 15 millivolts typical, with 1K ohm output impedance.
HEADPHONE OUTPUT: 0.3 volts maximum, into standard 8-ohm stereo headphones.


CONTROLLERS
KEYBOARD FUNCTION: Permanently connected to (a.) control Oscillators 1 X 2, and (b.) trigger Contour Generators. Keyboard may be switched to control Oscillator 3 and Filter.

DESCRIPTION OF KEYBOARD: Standard 44-key 3·-octaves Only lowest key depressed has effect in controlling Oscillators and Filter. Contour Generators are activated whenever a single key is depressed.
RATE OF KEYBOARD GLIDE: Continuously variable from 1 millisecond to 1 second/octave

PITCH BENDING RANGE: 5 semi tones minimum.
MODULATION INJECTION RANCE: 0 to 1/4 octaves.

CONTROL & POWER CONNECTIONS
EXTERNAL PITCH CONTROL INPUT CHARACTERISTIC: 1 volt change produces 1 octave frequency change, +- 2%.
EXTERNAL FILTER CONTROL INPUT: 1 volt change produces 1 octave change in cutoff frequency, +- 5%.
EXTERNAL AMPLIFIER CONTROL INPUT: Linear control voltage/gain relationship. Gain range spanned by 0-4 volts.
EXTERNAL TRIGGER INPUT: Switch-closing activates both Contour Generators.
all snapshots, sounds, texts copyright Polynominal.com / Eric Pochesci
---
All manuals (free of charge), trademarks are just for info purpose.Nothing should be considered as advertising, and I stricly express my point of view on review.Names and other trademarks are the property of the respective trademark holders.Ask to have material: don't rip.All sounds and snapshots by Eric Pochesci- except marked *
Snapshot watermarked to avoid Ebay scamms and fraud.WARNING Some mp3 contains very high frequencies and COULD damage your speakers, pay attention to volume!