Crumar DP-50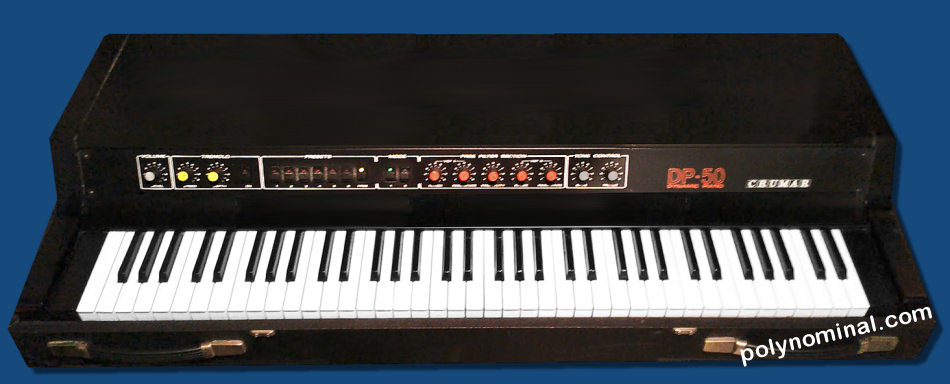 Country: Italy
Weight: n/a
Dimensions: n/a
trend price : 200€
Crumar DP-50 (1981)
Dynamic Piano

Analog piano keyboard based on presets with filter section.

Thanks to Nico for info, pictures and demo sounds.

KEYBOARD 73 weighted keys with adjustable pressure dynamic.


Rear panel terminal connectors:
- main signal out
- pedal input for sustain
- master tune trimmer
- keyboard touch sensibility knob.






VOICE the DP-50 is an analog piano based on 6 presets: 2 banks of 6 sounds with filter variations.






FILTER the multimode "FREE FILTER SECTION" is a low pass + high pass filter with variable sensivity based on famous CEM 3320:
- VCF 1 :range + resonance
- VCF 2 :range + resonance.









EFFECT a simple internal tremolo LFO with variable frequency and depth, in addition a 2 bands-EQ "Tone Control" Bass + Treble.
TECH: previous DP30 seems to have chorus onboard.








DP80 flagship version VIDEO


DP30 first version, 4 preset and VCF.
VIDEO













Company: Crumar
Model: DP-50
Class: analog piano
Keyboard: 73 keys
Dates: 1981
Sounds: 12 presets
Price: 150€
Synthesis: analog
Filter: LPF / HPF
LFO: 1
Demo: 4







NO REVIEW

Pictures, sounds and info have been provided by contribution, we did not tried this machine.


| | |
| --- | --- |
| | |
| -warm | - weight |
| -filter edit | - Midi |
| - cheap | - limited preset |



all snapshots, sounds, texts copyright Polynominal.com / Eric Pochesci
Crumar DP-50
based on
1
ratings. price
€150