Conn Min-o-matic Rhythm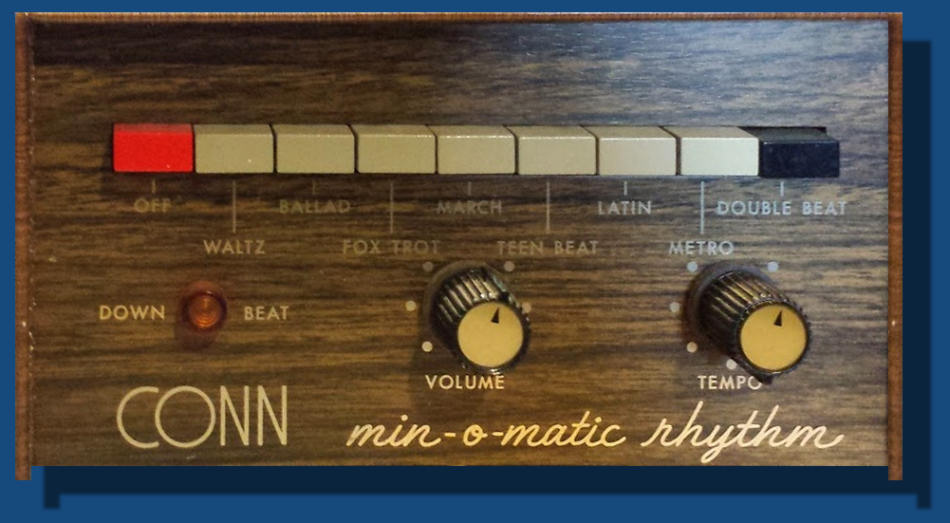 | | | |
| --- | --- | --- |
| | trend price : 100€ | |

Conn Min-o-matic Rhythm (197x)

American drum box with preset patterns and no possible edit. The Conn society was more famous for organs and brasses instruments USA manufacturing.






DRUM MACHINE pretty simple to use with only 9 push buttons and 2 knobs global volume and tempo frequency and there you go.



Back panel terminal connectors:
- mono jack out
- tuning trimmer





SOUND system generates 5 analog drum percussions.
The sounds cannot be edited in anyway and NO individual volume for mix.
Soundlist:
- kick
- snare
- conga
- Hihats
- claves
+ metronome click




RHYTHMS up tp 6 pattern presets, no possible variations except the Double Beat function:
1- Waltz
2- Ballad
3- Foxtrot
4- March
5- Teenbeat
6- Latin
+ metronome




TRIVIA C.G. Conn Ltd society was more famous for organs and brass production rather than drum box, that usually where fitted into big organs.



from the CONN archive.




Soundcloud demos:






VIDEO CLIP SELECTION

| | | |
| --- | --- | --- |
| | | |
| video | | |















-no edit
-few patterns
-too simple






REVIEW "another preset drum box! this one seems to be pretty rare, especially in Europe."
all snapshots*, sounds, texts copyright Polynominal.com / Eric Pochesci
* but picture from the CONN archives.
Conn Min-o-matic Rhythm
based on
140
ratings. price
€100