Casio DZ-1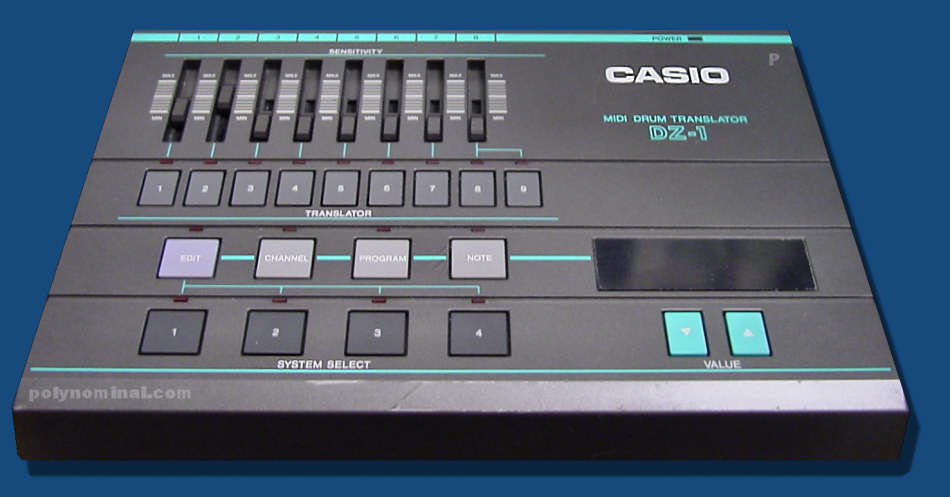 Country: Japan
Weight: n/a
Dimensions: n/a
trend price : 50€
Casio DZ-1
Midi Drum Translator (1986)

This electronic drum unit transforms incoming trigger piezo impulses from pads to Midi note messages. DZ1 is Part of the Casio electronic drum family including the Rz-1 and Sz-1.







INTERFACE main pannel features 19 push buttons and 9 sliders for fine sensibility adjust and master potentiometer for global sensibility.

Rear pannel connections:
- Midi Out x2
- total sensitivity pot
- 9 input switch
- switch input for performance select

Power supply external PSU is a 9V with negative in center polarity.


FUNCTIONS incoming analog trigger signals are translated to Midi notes with various velocities levels. Each trigger channel has a slider for fine sensibility amount.


| | |
| --- | --- |
| | TIP: the preview buttons allow to check the corresponding Midi OUT note. |





TRIGGER CONNECTIONS:


- 9 trigger inputs for bass drum, snare drum, tom 1/ 2/ 3, hihat, ride and crash
- 2 Midi outputs sending the same signal (handy if you want to split the sounds to 2 Midi modules)
- 4 inputs for system recall: just plug a pedal to recall one of your trigger setup.




EDIT very simple but it covers all the needs for this kind of job: the buttons change the note destination using the Midi 1-88 note system. The "channel" function defines the Midi channel output, in order to route the signal to different modules or to a single multitimbral machine.








ADVERT GALLERY:






RELATED DZ-1 FAMILY:


| | |
| --- | --- |
| | RZ-1 Digital drum machine with sampling VIDEO |
| | SZ-1 Midi Digital Sequencer |











SPECIAL AWARDS:



| | |
| --- | --- |
| | |
| obsolete | candy interface |









REVIEW " easy to use, a bit old now" ."


- easy and intuitive

-

- obsolete

-cheap




limited functions



all snapshots, sounds, texts copyright Polynominal.com / Eric Pochesci
casio dz1
based on
31
ratings. price
€50