Korg MEX-8000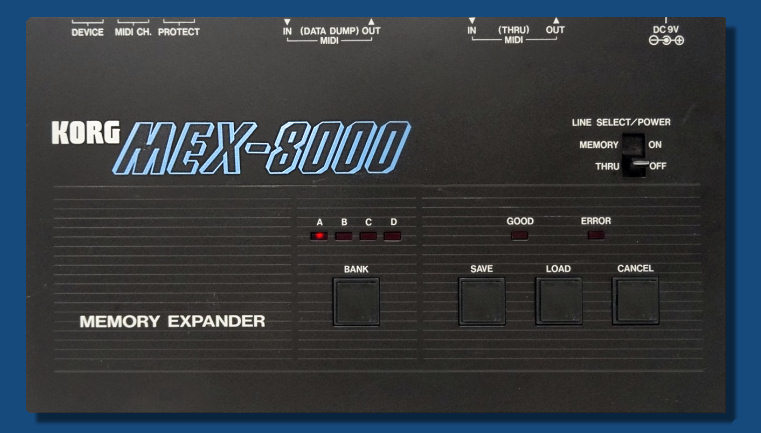 Country: Japan
Weight: 1,1 Kg
Dimensions: 232 x 36 x 131 mm
trend price : 150€
Korg MEX-8000
Memory Expander

Optional memory module for some early digital Korg products like synthesizers and effects.

THIS MEX 8000 UNIT IS FOR SALE at 150€ please do WRITE US for more INFO
MEMORY MODULE Main panel features 4 buttons, a switch and four red leds.

Rear panel terminal connectors:
- 1 Midi input
- 1 Midi output
- 2 Midi thru
- 3 dipswitch settings

Power supply is an optional 9V external PSU DC with negative center -)+ or batteries.
VOICE The MEX8000 is a primitive memory unit able to store 4 extra banks of 64 patch sounds for the following compatible machines:
- Korg DW-8000
- Korg EX-8000
- Korg DW-6000
- Korg Poly800 mk2
- Korg EX-800
- Korg DVP-1
- Korg SDD-330



TECH: Typical Poly800 bank is about 5Kb and Dw/ex8000 about 4kb, but the MEX -8 should backup any kind of exclusives data since it is a simple data syx recorder, unless Dipswitch setting checks for the exclusives ID header.



MIDI CONNECTION just connect the MIDI OUT of a machine to the MEX-8000 Midi INPUT, press "SAVE" on the MEX and send the Midi Exclusives you want to save It is also possible to VERIFY the dumped data to double check. Do not forget to remove the MEMORY PROTECTION.




TECH: you have to set the machine you have using the dipswitch setting on the back of the machine according to this schema:






SPECIAL AWARDS:

| | |
| --- | --- |
| rare | old school |






REVIEW "very useful unit to save and load my dw8000 patches in a breeze!"

THIS MEX 8000 UNIT IS FOR SALE at 150€ please do WRITE US for more INFO


| | |
| --- | --- |
| | |
| -handy | - rare |
| - plug and play | - pricey |



polynominal.com is not associated or affiliated with KORG in any manner. all snapshots, sounds, texts copyright Polynominal.com / Eric Pochesci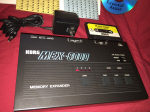 KORG MEX8000
88
out of
100
based on
1
user ratings
150
to
200
from
1
sellers Sellers:
...