Kawai 100-F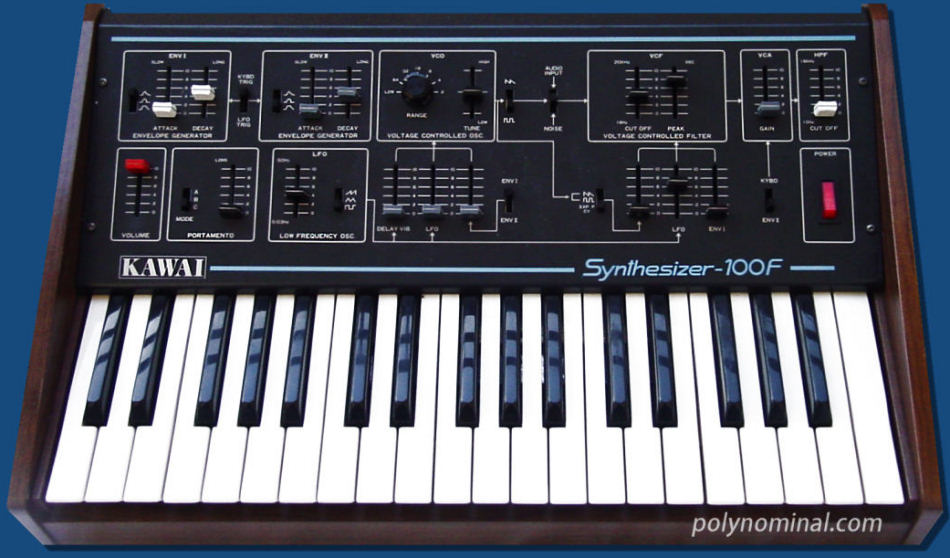 Kawai 100F

Fantastic little analog synth from the end of the seventies - famous to be Vince Clark's first love.

A true analog breed full of diodes, transistors and FETS - but still worth a buy today?? let's check this out!



KEYBOARD so good 70' looking with those wooden sides and many knobs for real time fun! Even if pure analog breed circuits, the Kawai is not too heavy (about 7 Kg weight) so easy to carry around ! however pay attention to the sliders caps easy to get lost during transport.
The keyboard features a 37 keys DO->DO keys with nice touch feeling, sadly missing both Pitch Bender and Modulation Wheel,but let's comfort with three Portamento play modes with adjustable Glide Time.
The main grey panel has its own organisation logic in clear macro zones: a total of 10 switch tabs and no less than 18 sliders that are soft and good quality.
Behind the synth (pic) there are two jack Outputs at different impedance HI /LOW, a pedal Input for expression control - a CV filter Cutoff for modular for control tension gears or simple pedal control.


Power Supply is internal. Exists in both 110V and 220V.



VOICE only one analog VCO with fine tuning and two possible waveforms Square (NO Width Pulse) or Saw over a wide range octaves span 64'/ 32' / 16'/ 8' / 4' + Sub Low - bottom LOW 0.3 HZ! would say merely that' s another LFO.
The synthesizer circuit generates also a White Noise with no controls, but this circuit disables the external sound processing through VCF.




VCF featuring a great multimode genuine 100% analog resonant (resonance is called "PEAK") filter with LPF -24 dB per octave 16 Hz- to 2 0kHz range and Hi Pass HPF 10 Hz -> 16 kHz.
>IHMO< Powerful and perfect for acid basslines or retro-electronic sounds.
The VCF can also process external audio - hear to demo below along with Roland Cr-8000.

| | |
| --- | --- |
| Kawai 100f filtering a Roland Cr-8000 | |

EG two Envelope generators with two segments A - D. Each envelope can be assigned to VCO amplitude or filter VCF Curve with the dedicated switch under the section, and three different Curves for some preset Sustain and Release values called "Percussion" "Organ" and "Slow".


LFO just one Low frequency oscillator that reaches very high frequency ( extra eletronic blips and fx) with Start Delay and three possible waveforms Sawtooth / Triangle / Square with direction to VCO, AMP or to VCF.
The Low frequency Oscillator can be retriggered at each note play or just be in free run mode (ENV motion selector) and can be routed toward VCO / VCF / VCA.

MEMORY NO, good old blank sheets and a solid pencil.

Vintage carton overlay cards: it helps for some kind of preset: primitive and fun!

CV/ GATE non standard voltage control. You have to deal with some custom third part interfaces (or some clones) or still use your little fingers to play notes.


DUO Various units can be linked to with the "Synthesis control IN" to Higher or Lower part of the keyboard for a diabolic Duophonic machine.

RELATED FAMILY

Kawai 100F has also been rebranded under TEISCO name, some colors are different but it is exactly the same machine.

| | |
| --- | --- |
| Sinusoidal filter Percussion | |

| | |
| --- | --- |
| along with tape echo Roland re501 | |




FREE SCHEMATICS
- great analog filter and LFO
- sound routing
-easy to carry

- Custom cv
- one oscillator
-no bender

PERSONAL OPINION:

Not common, true genuine VCO board with great filter and LFO. They may go expensive soon!

second hand price : 500-600 euro
Sponsored LINKS:
all snapshots, sounds, texts copyright Polynominal.com / Eric Pochesci
---
All manuals (free of charge), trademarks are just for info purpose.Nothing should be considered as advertising, and I stricly express my point of view on review.
Names and other trademarks are the property of the respective trademark holders.Ask to have material: don't rip.All sounds and snapshots by Eric Pochesci- except marked *
Snapshot watermarked to avoid Ebay scamms and fraud.WARNING Some mp3 contains very high frequencies and COULD damage your speakers, pay attention to volume!