Electro Harmonix Eh 5380 drum sequencer MK2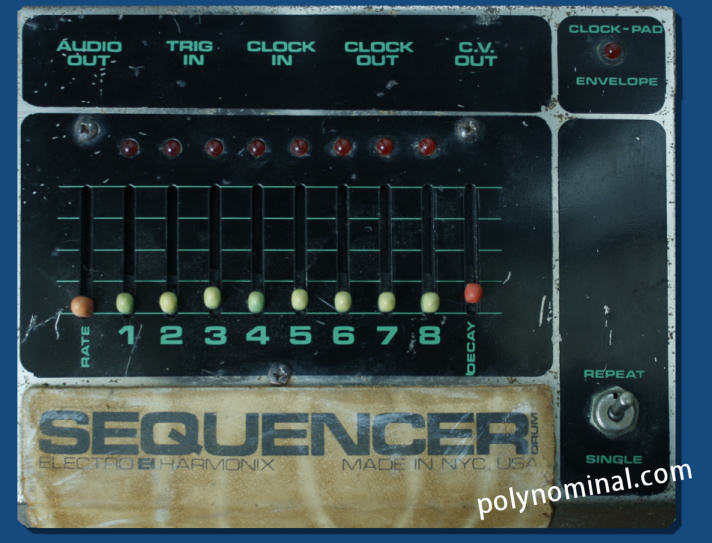 Electro Harmonix Eh 5380 drum sequencer (197?)

A cool box from the seventies generating a square waveform sequenced by a simple 8- steps pattern for each note.


This model is the second version "mk2" featuring with some enhanced features, but basically the machine philosophy is the same.



PEDAL traditional Electro harmonix design from the earlier era - for some reasons today they shrunk a lot their products... ahh those days of crisis.

The 5380 main panel features 10 slides for the sequencer and a simple switch to for single or repeat sequence mode... straight and effective! Now the odd stuff: the strange frontal brown spongy band is not for (ugly) decoration but it' s a piezo pad you you hit to trigger the sequence start, but first you have to select this mode with the little switch behind the "clock / pad" label.

Behind there are 5 jack connections: Audio out, Trigger In, Clock In, Clock out CV out; plus the chord of the power supply which is internal, note that there's no button to switch it ON/OFF: just plug and play.

SOUND one monophonic oscillator able to generate one Square waveform (no width) the sound edit is limited to the Decay, OK not much, but if you're into electro sound you WILL like it anyway.

SEQUENCER steps with 8 nice levers from lower to higher octaves, all are extremely sensible to each minimum move.
The frequency tempo is defined by the left most one RATE with a range from "pretty low" to "total crazy speed" and a sequence can be played in two mode: looped or retriggered by the (spongy) piezo pad.
Making a sequencer is almost immediate and you get a lot of random square-weirdness in a '70 space movie style, but for more sophisticated note sequences you have to use your ears.
A nice trick is to use the CV out to send this sequence to an analog synthesizer, although it ouputs higher Voltage than standard synth scale, so mods are necessary, read below:

CV OUT the sequencer outputs weird Voltage, so IT won't work very well your analog synthesizer, however we managed to mod the Voltage out in approx 0-5V range, and it hell ! it works!

CLOCK the unit can be synched to to CLOCK IN with a trigger signal - I personally had some nice results with Ramp wave, less with a some drum machines.
The sequence can be also retriggered from beginning with TRIGGER IN (do the same function of the pad) if you're good in the synching art you can use this function to get less steps than the standard eight.

MEMORY no you can't save anything: the sequencer just plays what's on the panel ...WYSIWYG!


FAMILY RELATED:



The first version was simpler, missing clock in and out plus the CV out

| | |
| --- | --- |
| Tb-esque sequence using moog mf101 filter | |

soon more




PDF MANUAL

NOT AVAILABLE, IF YOU HAVE A PDF, PLEASE SEND IT US- IT WILL BE SHARED HERE FOR FREE.

WARNING! this schematics is rough and has some mistakes or just doesn't match the model I own! could be various versions?

OH AI! I AR HYPNOTIZET CATZ



- funnnn
- sequencer!

- limited sound
- sequencer could have more options

PERSONAL OPINION:

This is the kind of "toy" you play for hour! you can hook it virtually to any analog machines.

Love it ! - hard to find !
Sponsored LINKS:
all snapshots, sounds, texts copyright Polynominal.com / Eric Pochesci
All manuals (free of charge), trademarks are just for info purpose.Nothing should be considered as advertising, and I stricly express my point of view on review.Names and other trademarks are the property of the respective trademark holders.Ask to have material: don't rip.All sounds and snapshots by Eric Pochesci- except marked *Snapshot watermarked to avoid Ebay scamms and fraud.WARNING Some mp3 contains very high frequencies and COULD damage your speakers, pay attention to volume!