Kawai K1m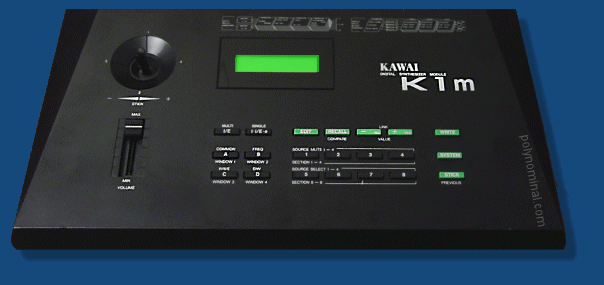 The Kawai k1m Laptop Digital Synthesizer (1988)

Desktop version from digital synthesizer K1 based on 8bits short cycled waves.

Today sounds obsolete, but it still have charm for synth programmers or Lo-fi or glitch freaks in special gig space-saving laptop ! READ IT ALL!




LAPTOP all made out of black plastic feels a bit cheap, but surprisingly solid! It is quite light and easy to carry around.

The main panel features a 16x 2 lines display, 25 rubber buttons, a slider edit for data entry and a vector joystick for real time control over sound amplitude moving between four sounds increasing and decreasing the values -Same Sequential Prophet Vs. or Korg Wavestation principle..

Back panel has these connections: Midi I/O, a pair of stereo jack outputs and headphones out.

PSU is external with 9V DC with negative (- in center.



VOICE the synthesizer is able to manages up to 16 voices of polyphony and 8 multitimbric Midi parts. A standard patch is composed by 1,2,3 or 4 SOURCES layered in any "VM" or" PCM "combination that can be detuned and ringmodulated together.

The kawai digital sound generator has a total of 256 basic PCM waves coded at 8 bits. The non- expandable ROM wavetable features 204 cyclic waveforms called "VM" generated by additive synthesis (128 harmonics) and 52 classical ones ffrom acoustic percussions & drums.

The "VM" shots is composed by 2 other groups:
1) BASIC WAVEGROUP with basic waveforms such as Square, Saw and Sinusoidal - useful for analog type sounds.
2) FREQUENCY RANGE GROUP sub-divided into four parts LOW / MID / HI MID / HI with spectral transients PCM of from Piano / Strings / Brass / lead / Bell / Organ.


LFO one free-flow Modulator with Delay Engage and four possible waveforms including Triangle, Saw, Square and Random, the destination is just Pitch OR Amplitude.


ENVELOPE type DADSR , each source has a single EG with 4 segments plus a Delay parameter.
Also 18 preset Velocities Curves with no edit.

FILTER Simply none: that's probably the biggest miss of the machine.


MIDI standard implementation with just a few CC control changes, however the Sysex is complete with total control of the machine and data dump.

MEMORY chip based on NEC D4464C with soldered Lithium battery type 3V Cr-2032, can hold up to 64 single-patches or 32 multi timbral in memory

Memory can be expanded with Kawai special cards type DC-8 (we some DC8 and Dc32 spare to sell HERE).



K1 family comparison table and differences:

-Kawai K1 : keyboard version (INFO PAGE)

-Kawai k1r: rackmount version without joystick(info page)

-Kawai K1 II: add reverb , higher sample resolution and some new drum waveforms.

-Kawai K1 rII: rackount version of K1 II minus joystick and effect DSP




k1 DEMO

| | |
| --- | --- |
| KAWAI k1 100% sounds! no effects, pure k1! | |

| | |
| --- | --- |
| various sounds (with external phaser) | |

| | |
| --- | --- |
| | k1m CIRCUIT BENT!! Soon demo of glitch and noise!! staytuned! |



-- bargain price
- Lo-fi industrial sound
-save space!

- no filter
- editing
-No fx

PERSONAL OPINION:

The k1m is a must buy for Lo-fi lovers or people looking for a machine always able to produce noisy textures. Don't be fooled by presets and give a good edit try.

Now REALLY cheap, second hand price for k1m : 100 euro
Sponsored LINKS:
all snapshots, sounds, texts copyright Polynominal.com / Eric Pochesci
---
All manuals (free of charge), trademarks are just for info purpose.Nothing should be considered as advertising, and I stricly express my point of view on review.
Names and other trademarks are the property of the respective trademark holders.Ask to have material: don't rip.All sounds and snapshots by Eric Pochesci- except marked *
Snapshot watermarked to avoid Ebay scamms and fraud.WARNING Some mp3 contains very high frequencies and COULD damage your speakers, pay attention to volume!