Kawai K1m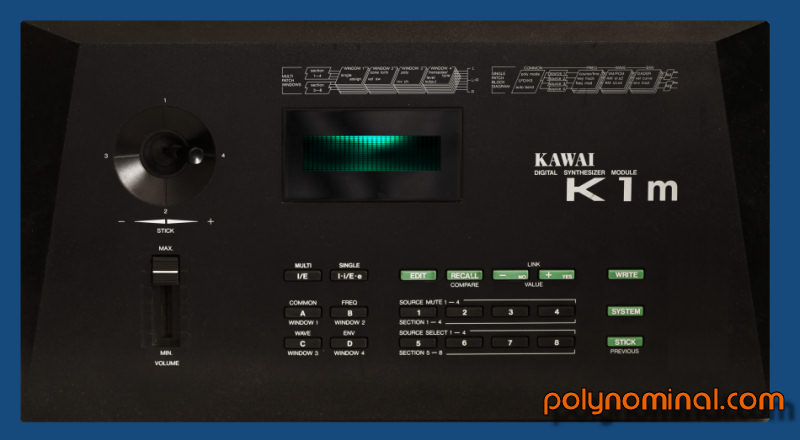 | | | |
| --- | --- | --- |
| | trend price : 100€ | |
Kawai k1m Laptop Digital Synthesizer (1988)

Desktop version from digital synthesizer K1 based on 8 bits short cycled waves.

Lo-fi or glitch freaks in special gig space-saving laptop.




LAPTOP (weight: 2 Kg) all made out of black plastic surprisingly solid.
The main panel features a 16 * 2 lines display, 25 rubber buttons + a slider edit for data entry, a vector joystick for real time control over sound amplitude moving between 4 sounds increasing-decreasing parameters.
Back panel terminal connectors: Midi Interface, main out and headphones out.

Power supply is external with 9V DC with -) polarity.
VOICE the K1 engine manages up to 16 voices of polyphony + 8 multitimbral parts, the whole synthesis structure lacks of filters.
A standard patch is composed by up to 4 layered digital oscillators or SOURCES.





WAVETABLE internal K1 ROM contains 256 PCM waves at 8-bits resolution, split in 2 families:
1- VM: 204 cyclic waveforms generated by additive synthesis process out of 128 harmonics.
2- ACOUSTIC: 52 shots sampled from true percussions & drums.

VM SYNTHESIS cyclic wave groups is composed by 2 categories:
1- BASIC classic basic waveforms such as square, saw and sine.
2- FREQUENCY RANGE are spectral transients from piano, strings, brass, lead, bell and organ
This family is sub-divided also into 4 parts: 1) LOW 2) MID 3) HI-MI 4) HI.


ENVELOPE a 4-segments + 1 time EG DADSR for each source.
There are 18 preset velocities curves and no possible edit.

LFO one single modulator offers 4 waveforms: triangle, saw, square and random and 1 possible destination between pitch and amplitude. The LFO cannot be retriggered at notes, but can be time delayed.

MIDI standard implementation with just a few CC but full compliant to Midi Exclusives data for both edit and backup.

MEMORY hold up to 64 standard patches +32 multitimbral, in addition memory can be expanded with Kawai special cards model DC8 also compatible with DC16 and DC32.
The K1 RAM chip is a NEC D4464C with Lithium battery 3V Cr-2032.




K1m model has been mutilated and bent: sound is just crazy!

hear the demo.





Kawai K1: original keyboard version.

Kawai k1r rackmount version of k1 without joystick.

Kawai K1 II: add reverb , higher sample resolution and some new drum waveforms

Kawai K1 rII: rackmount version of K1 II minus joystick and effect DSP

| | |
| --- | --- |
| AUDIO DEMO | |

Soundcloud K1m





| | | |
| --- | --- | --- |
| | | |
| KAWAI K 1-M DEMO 2012 | Kawai K1M demo | uh... my demo! |


- no filter
- editing
-No fx



for LO-FI geeks

OPINION


"The k1m is a classic for Lo-fi sounds or noisy textures.
Don't be fooled by presets and give a good edit try."
all snapshots, sounds, texts copyright Polynominal.com / Eric Pochesci
kawai k1m
based on
28
ratings. price
€100