Linn 9000 Electronics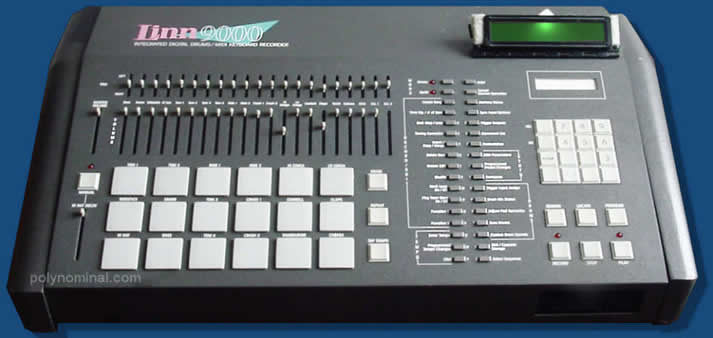 Country: USA
Weight: 13 Kg
Dimensions: 15 x 61 x 35,5 cm
trend price : 700€
Linn Electronics
Linn 9000 (1984)

Rare digital drum machine really ahead of its time but bugged by many OS troubles and technical issues.

Note: this page is relative to original machine and not to third-part upgrades, also some of these pictures may differ from the classic 1984 edition.
DRUM MACHINE Main panel features a 32-characters display, 18 sensitive pads, 44 mixer sliders, 2 data sliders, 43 push buttons and 16 others on the numeric pad.
Rear panel terminal connectors:
- Midi interface
- tape interface
- 2 trigger outputs
- 2 footswitch inputs
- sync interface
- hihat pedal control
- audio input for sampling (requires optional card)
- click out.




VOICE main core INTEL 8/16 bits 8088 at 8 MHz clock features 18 voices polyphony, each voice has an assigned 8 bits companded PCM sample from various EPROMS standard. The main board features a total of 14 slots for sound cards and expansions (the original setup has 8 factory cards fitted adds a total of 18 separate analog outs + 6 trigger inputs).
The internal sounds are sampled at 8 bit with variable frequencies between 11 and 37 kHz and stored on EPROM (27128/2764) and split in several voice cards which have different circuit design. Each assigned samples features individual voice setting:
- volume gain
- panning position
- pitch tuning.





| | | | |
| --- | --- | --- | --- |
| kick | congas (x2) | cowbell | tambourine |
| snare | cymbals (x2) | handclaps | sidestick |
| hihat | standard cymbals | cabasa | splash cymbals |
| toms (x4) | | | |







SAMPLE IMPORT samples can be changed in 2 ways:
- swapping or burning new EPROM
- sampling using optional board (8-bit / 40kHz) with a basic memory of 64 Kb (expandable).












PEFORMANCE all sliders movements can be recorded in real-time and hihats features a special slider for real-time control of the decay. The repeat function is used for synched snare drum rolls.
TRIGGER 6 voices can be assigned to external trigger signal (+5V pulses) with adjustable dividers , 6 extra can be added installing an optional card. Also 2 trigger outs to drive other machines or sync synth arpeggiators.







SEQUENCER there are 2 kind of sequencer in the LINN 9000 sharing same edit commands:
- keyboard recorder polyphonically records 32 tracks on 16 Midi channels
- drum sequencer records 999 bars in step mode or real-time, quantification from 1/8 to up to 32 triple with variable time signature and swing variations.
SYNC internal frequency range from 48 to 250 BPM at 48 PPQ or slaved to other compliant devices












MEMORY:
- 999 bars
- 31000 notes (7000 synth + 24000 drum) can be also expanded.
Sequences and recorded samples can be saved to optional 3"5 drives or tape storage.










MAINTENANCE one the most unreliable and buggy machine ever mad: in fact this ground-breaking and expensive project litteraly bankrupted the Linn company. It is hard to list all possible issues, but the most common and dangerous is still the battery leakage.






LEFT example of corrosion
(click to zoom- pic by TOPOPICCIONE).







27128 OS dump picture






RELATED FAMILY:

| | |
| --- | --- |
| | Linndrum 9000 original - there were different color releases and some modifications to the display. |
| | Linn drum LM1 - the Linn legend started in 1980 VIDEO |
| | Linn drum lm2- maybe the most famous LINN of the series released in 1982 VIDEO |





VST PLUGIN / SAMPLED VERSION there are some free and commercial samples set:


name
price
link
demo
VLINN
commercial VST plugin
VLINN loads original LINN EPROMS
Polynominal
free
Free LINN samples HERE !
N/A

EDITOR
- LINN9000 FS: access to Linn9000 image files and devices (FREE - LINK)












| | | |
| --- | --- | --- |
| | | |
| Machine Demo | MIDI Sequencer | soundtrack session |









FREE LINN 9000
SERVICE MANUAL
(thanks to
Reiner Riedel)





-bulky
-unreliable
-buggy



FOR COLLECTORS


REVIEW: "The Linn 9000 is a nightmare for maintenance, but it sounds really good. For collectors or technical geeks"

Thanks to Alessandro Petrini
The Linn 9000 is a dream I've had for a long time. It answers nearly all of the requests I've received from top recording artists over the years. To a far greater degree than has existed before, it allows the non-technical artist to quickly and accurately realize the music which exists in his mind.- Roger Linn


all snapshots*, sounds, texts copyright Polynominal.com / Eric Pochesci

Linn 9000
based on
12
ratings. price
€1000