EDP Wasp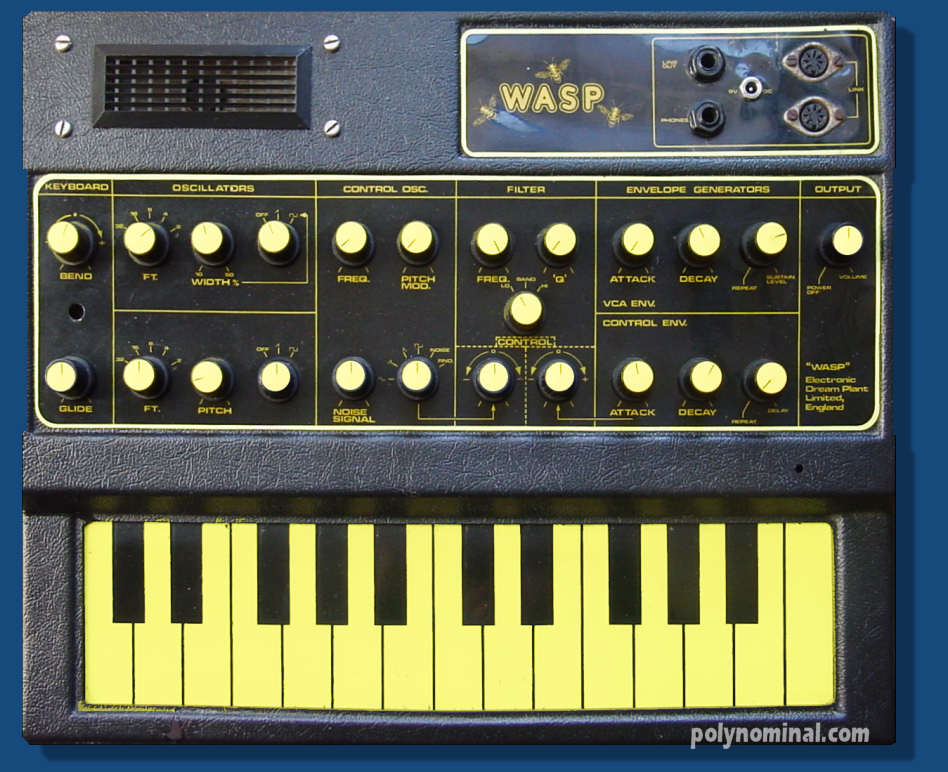 | | | |
| --- | --- | --- |
| | trend price : 700€ | |
Electronic Dream Emplant (EDP) wasp (1978)

Portable analog synthesizer similar to Electro harmonix mini-synthesizer or EMS synthi.


A fun plastic machine made in the UK (Oxford) during the seventies.




LAPTOP 25 keys a very flashy yellow design with cheap plastic black case which tend to sadly fall apart.
The main panel features a small internal speaker and counts 18 knobs and 5 selectors. Front terminal connectors are: line out, headphones out and a double set of 7-DIN used to link other units to the synthesizer like the SPIDER sequencer, note that this proprietary protocol is not compatible with Midi system.


Power supply is a 9V external PSU or 6* 1.5V batteries-



VOICE monophonic machine features two digital oscillators based on a master 250 kHz oscillator and 2 timer NE555.
- OSC1 (feet 32' 16' 8' 4' 2') can be a saw or a pulse with variable width (10 to 50% duty cycle).
- OSC2 (feet 32' 16' 8' 4' 2') can be a saw or a pulse with detune option (+/- 12 semitones).
There is not mixer for balancing, but OSC can be switched to OFF position.






PERFORMANCE the special keyboard is based on conductivity generated by fingers and it is totally awkward to play! the BEND knobs allow the keyboard's tuning while master tune can be set on the frontal trimmer. The GLIDE function set the portamento time for special legato play.

LFO a single modulator with 6 different waveforms: sine, saw up, saw down, square, noise and random. The low oscillator modulates 2 possible destinations: filter cutoff and OSC1-2 pitches, in addition the frequency can be positive or negative.

FILTER the VCF is resonant (the Q, not self-oscillating) and counts 3 different modes: lowpass, highpass and bandpass.

ENVELOPE there are 2 EG in total, both offers a 3-segments structure type ADS (attack, decay and sustain):
- EG1 controls the VCA amplitude.
- EG2 controls the VCF cutoff.
Both sustain stages can be set also to REPEAT mode which engage the EG repeat function.





MAINTENANCE the keyboard is not only uncomfortable to play also highly unreliable and often needs some overhaul.


thanks to TOPOPICCIONE

RELATED FAMILY:





EDP WASP DELUXE - more functions, bigger panel and good normal keys, in addition it filters external sources.
The GNAT version is a smaller version with just 1 oscillator - quite collectable and sought-after.




| | |
| --- | --- |
| | EDP spider sequencer holds up to a 252 note by step mode or 84-note in real-time. |





| | | |
| --- | --- | --- |
| | | |
| EDP WASP Demo | EDP Wasp Synth | WASP synthesizer (Electronic Dream Plant ) |


-keyboard
-technical issues
-limited



FOR COLLECTORS

OPINION

"The wasp is really better than the harmonix synthesizer in same category! unfortunately it share same flaws like unreliable and toyish keyboard totally unplayable. However its great design and good sounding make this machine valuable for collectors."
all snapshots*, sounds, texts copyright Polynominal.com / Eric Pochesci
* but wasp deluxe + EDP spider
edp wasp
based on
2
ratings. price
€700