Ace Tone FR-6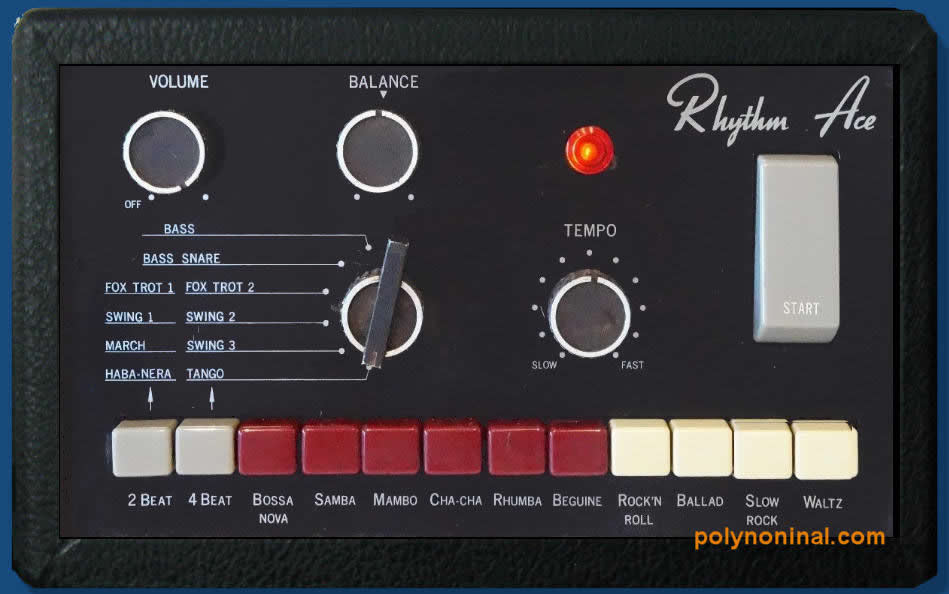 Country: Japan
Weight: n/a
Dimensions: n/a
trend price : 200€
Ace Tone FR-6P Rhythm (1972)
(Ace Electronic Industries )

Analog preset drum machine (not programmable) sounds quite identical to ROLAND TR-55 but a different pattern set.

Later ACE TONE society became part of the ROLAND group.
DRUM MACHINE The main panel features 3 knobs, a selector, a start-stop switch and 12 buttons.

Some different cases versions:
- model 6 : wood case
- model 6P: leatherette case.
- Also a rebrand version from BENTLY ORGAN.


Rear panel terminal connectors:
- audio out (2 impedances: high/low)
- pedal switch input (same as START-STOP button).










VOICE the FR-6 drum machine is based on a transistor technology board able to generate 6 sounds percussions:


-kick

-snare

-tom (x2)

-claves

-hihat





INTERFACEpiece of cake! just push the rhythm and start!

MEMORY 18 rhythm patterns 2 variations (bass/snare).


Rhythm list: Waltz, slow rock, ballad, rock, rhumba, beguine, mambo, bossanova, chacha, tango, samba, foxtrot (x2), swing (x3) march and habanera








SEQUENCER no possible edit but some little variation using the BALANCE which sets the mix amount between cymbal/hihats and kick. SYNC internal tempo range- no possible external clock.







MODIFICATION there are probably many mods that can be easily made like separate outs, trigger inputs - we are still looking for service manual and schematics :(

RELATED FAMILY:




Company: ACETONE
Model: FR6p
Class: Drum machine
Dates: 1972
Display: none
Synthesis: analog
Polyphony: 6 voices
Multitimbric: 1 part
Memory: 18 patterns
Sync: none


SPECIAL AWARDS:

| | |
| --- | --- |
| | |
| Retrogamer HIT | LO FI MASTER |











REVIEW: "early analog drum box full of old granpa rhythms. However the kick is not bad."

Thanks to Nico pictures and demo sounds.




| | |
| --- | --- |
| | |
| -cheesy retro | -- limited |
| | - no sync |




all snapshots, sounds, texts copyright Polynominal.com / Eric Pochesci
Ace Tone FR-6 Rhythm Ace
based on
4
ratings. price
€150